Seat Cordoba 1996 Coupe
The paint and colours of this car are great the spoiler and design is a good look. It has good steering and brakes if maintained ie disc front drums back. It has poor fittings and is a noisy car as they spent little on panelling. The motor is poor take off but improves at cruising speed and is a typical VW engine , reliable and hard working. I think the suspension could be better. The air con is ...
read all Seat Cordoba reviews
This generation of Seat Cordoba has been produced from June, 1996 to October, 1999. We can provide information about 8 modifications of this generation. The car has been produced only with front wheel drive.
This Seat is available with five petrol engines with displacement from 1.6 to 2.0 litres and power of from 75 to 150 horsepower un two diesel engines with displacement 1.9 litres and power of from 90 to 110 horsepower.
The car is available with only with manual gearbox.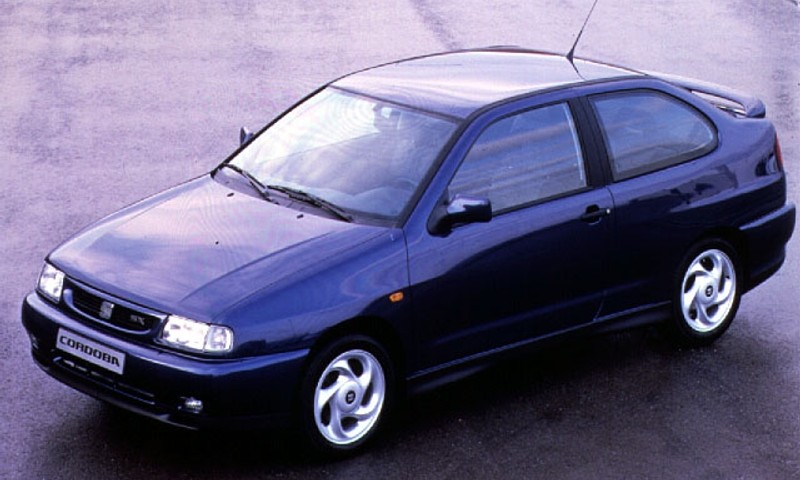 All Seat Cordoba 1996 coupe photos
Compare Seat Cordoba to other cars
Seat Cordoba 1996 coupe average fuel consumption in combined cycle for petrol engine is from 7.6 to 8.4 litres per 100km, whereas for diesel engine - from 4.8 to 4.9 litres per 100km. The most fuel efficient Seat Cordoba 1996 coupe petrol engine version is Seat Cordoba SX 1.6i, consuming 7.6 litres per 100km. While the most fuel efficient Seat Cordoba 1996 coupe diesel - Seat Cordoba SX 1.9 TDi for 100 kilometers consumes 4.8 liters of diesel.
According to user reviews, Seat Cordoba real-world fuel consumption is on average about approximately for 9 percents higher as the manufacturer's claimed fuel economy (on average +3% for petrol engines and +14% for diesel engines). For a more detailed actual fuel economy of each model, select a specific Seat Cordoba modification.
Seat Cordoba 1996 coupe CO2 emissions for petrol engine are from 186 to 201 grams per kilometer, but for diesel engine - approximately 128 grams per kilometer. From Seat Cordoba with petrol engines the lowest CO2 emissions has Seat Cordoba SX 1.6i which produces an average of 186 grams of CO2 per kilometer.
The best acceleration from 0 to 100 km/h - 8.5 seconds has Seat Cordoba SX 2.0i 16V version, conversely the tardiest one is Seat Cordoba SX 1.6i reaching this speed only in 13.4 seconds. The maximum top speed is 216 km/h for the 2.0 petrol 150 hp version (Seat Cordoba SX 2.0i 16V).
Lenght of Seat Cordoba is 414 cm, it is medium size car. For comparison - Seat Cordoba is about 3 cm longer than Opel Astra hatchback, but 3 cm shorter than Ford Focus hatchback. Seat Cordoba gross weight is from 900 to 1100 kg (depending on modification).
This Seat is very cheap for its class - it can be purchased (in Latvia) for around 500 €. Users calculated Seat Cordoba 1996 cost of ownership for this generation, got average 1700 € cost per year and 0.29 € cost per one kilometer. Fuel costs were estimated at around 39%, while repair and maintenance costs - around 37% from total. We have an excellent car cost calculator, calculate ownership costs of Seat Cordoba for your situation and driving habits here! Below you will find more detailed information about Seat Cordoba prices and costs.
Seat Cordoba modifications
Seat Cordoba prices
Seat Cordoba 1996 - 1999 coupe price in Latvia is from 500 € to 700 €.
Comparing to analogical vehicles Seat Cordoba price is very low - Seat Cordoba is approximately for 48 percents cheaper then average coupes of this age (compare coupes 1996 - 1999 prices).
Seat Cordoba total costs of ownership
How much really costs to own Seat Cordoba? Users calculated Seat Cordoba 1996 cost of ownership for this generation, got average 1700 € cost per year and 0.29 € cost per one kilometer.
Seat Cordoba 1996 total costs of ownership calculator
Calculate total cost of ownership of the Seat Cordoba, including purchase, insurance, maintenance, taxes and other costs based on how you use your vehicle.

Seat Cordoba reliability and quality
According to yearly reports of vehicle inspection service Seat Cordoba reliability is little below average. In the roadworthiness tests in 2010 defects were detected in an average of 24.4 percent of Seat Cordoba of this generation (on average 13 years old at the time of inspection). The average failure rate for a vehicles of the same age was 24.1%.
Seat Cordoba 1996 coupe features (options)
Percentage of Seat Cordoba with corresponding feature (option)
Conditioning
50% Sunroof
50% Adjustable steering wheel
50% Metallic paint
50%
Seat Cordoba 1996 coupe photo images
Similar cars to Seat Cordoba 1996
Cars similar and most compared to Seat Cordoba 1996. Click on the image to view the car's specifications or on the "Compare..." link to compare cars.
Seat Cordoba reviews
Seat Cordoba 1996 Sedan Petrol 1.8 litres, Automatic gearbox
Purchase year:
2023 (age of car 27 years)
Owned for:
60`000 kilometers (0 years)
Average fuel consumption:
8.0 litres per 100km (60% urban driving)
Total car rating:
7/10
Would recomend this car to the friend
Review - positive and negative sides
Pros: The paint and colours of this car are great the spoiler and design is a good look. It has good steering and brakes if maintained ie disc front drums back. It has poor fittings and is a noisy car as they spent little on panelling. The motor is poor take off but improves at cruising speed and is a typical VW engine , reliable and hard working. I think the suspension could be better. The air con is super cold and I like the steering its heavy but straight and responsive.
If you spent some love on the suspension and improving the handling, tyres rims change. Manuel clutch with turbo this would be a fun car to drive. The 1.8 has all the modern features without the BS. Its also a car built for smaller people which I am.
Cons: Suspension, brakes and lot so of knobs that need attending too!
male, age 55