Seat Ateca 2016
Comfortable, pleasant, spacious, well equipped, easy to understand. Perfect road-holding - driving an SUV, but feels like a sports car - takes corners perfectly, without wobbling, because the suspension is firm ("soft" drivers won't like it). Fuel consumption is ideally low - on the motorway, the average has been as low as 5.0 l/100km over a long distance. Long-term consumption is 6.0 l/100km in ...
read all Seat Ateca reviews
This generation of
Seat Ateca
is being produced from January, 2016. We can provide information about 7 modifications of this generation. The car is available with front wheel drive
(6 versions)
and four wheel (4x4) drive
(1 version)
.
This Seat is available with two petrol engines with displacement from 1.0 to 1.4 litres and power of from 115 to 150 horsepower un two diesel engines with displacement from 1.6 to 2.0 litres and power of from 115 to 150 horsepower.
The car is available with both manual (5 versions), as well as automatic (2 versions) gearbox.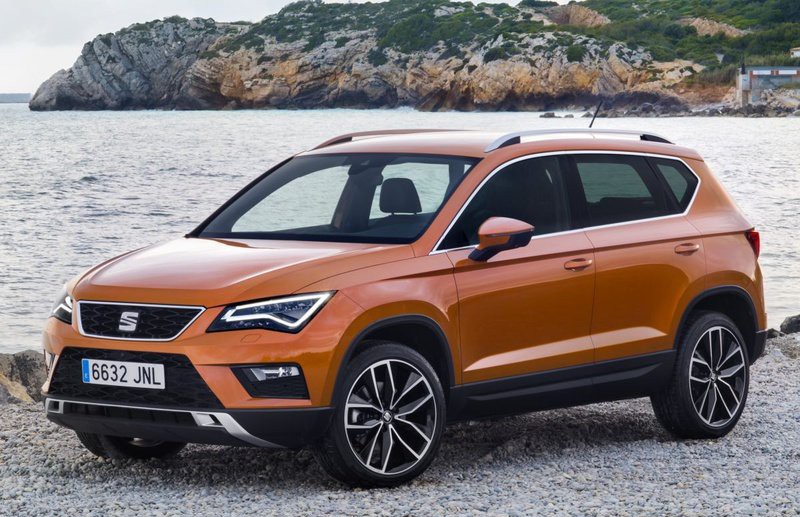 All Seat Ateca 2016 photos
Compare Seat Ateca to other cars
Seat Ateca 2016 average fuel consumption in combined cycle for petrol engine is from 5.2 to 5.3 litres per 100km, whereas for diesel engine - from 4.3 to 5 litres per 100km. The most economical Seat Ateca petrol engine version is Seat Ateca 1.0, consuming 5.2 litres per 100km. While the most economical Seat Ateca diesel - Seat Ateca 1.6 TDI for 100 kilometers consumes 4.3 liters of diesel.
According to user reviews, Seat Ateca real-world fuel consumption is on average about approximately for 37 percents higher as the manufacturer's claimed fuel economy (on average +35% for petrol engines and +39% for diesel engines). For a more detailed actual fuel economy of each model, select a specific Seat Ateca modification.
Seat Ateca 2016 CO2 emissions for petrol engine are from 121 to 126 grams per kilometer, whereas for diesel engine - from 112 to 128 grams per kilometer. From Seat Ateca with petrol engines the lowest CO2 emissions has Seat Ateca 1.0 which produces an average of 121 grams of CO2 per kilometer. In turn, from the Seat Ateca diesels least CO2 distributes Seat Ateca 1.6 TDI - 112 grams per km.
The best acceleration from 0 to 100 km/h - 8.3 seconds has Seat Ateca 2.0 TDI version, conversely the tardiest one is Seat Ateca 1.0 reaching this speed only in 11 seconds.
Lenght of Seat Ateca is 434 cm, it is medium size car. Seat Ateca gross weight is from 1830 to 2100 kg (depending on modification), which is about 7 percent lighter than the average for this age and class.
This Seat is in average price group - it can be purchased (in Latvia) for around 21 000 €. Below you will find more detailed information about Seat Ateca prices and costs.
In user reviews Seat Ateca received average grade 10.0 (from 10), which is good rating, on average cars of this age are rated only 7.7. All authors of reviews would recommend Seat Ateca to the friend.
Seat Ateca modifications
Seat Ateca safety
During safety testing Seat Ateca has obtained 5 stars from five, which means very high safety level.
Adults (driver and passenger) safety of Seat Ateca is evaluated with outstanding rate 93 from 100, children safety: very good mark - 84 from 100, for pedestrian protection Seat Ateca got 71 points from 100.
Seat Ateca safety equipment has been rated as average - 60 percents from 100.
Seat Ateca prices
Seat Ateca 2016 crossover price in Latvia is from 14500 € to 26000 €.
Comparing to analogical vehicles Seat Ateca price is average - Seat Ateca is approximately for 7 percents cheaper then average crossovers of this age (compare crossovers 2016 - 2023 prices).
Seat Ateca total costs of ownership
How much really costs to own Seat Ateca? To calculate the Seat Ateca total running costs, including the purchase, insurance, maintenance costs as well as taxes and other costs, click year of production
2016 2017 2018 2019 2020 2021 2022
Seat Ateca 2016 features (options)
Percentage of Seat Ateca with corresponding feature (option)
Climate control
94% Tire pressure control
94% Rain sensor
92% Metallic paint
75% Conditioning
67% Distance control
50% Xenon headlights
11%
Seat Ateca 2016 photo images
Seat Ateca reviews
Seat Ateca 2021 Petrol 1.5 litres, Automatic gearbox
Purchase year:
2021 (age of car 0 years)
Owned for:
48`000 kilometers (2 years)
Average fuel consumption:
5.8 litres per 100km (60% urban driving)
Total car rating:
10/10
Would recomend this car to the friend
Review - positive and negative sides
Pros: Comfortable, pleasant, spacious, well equipped, easy to understand. Perfect road-holding - driving an SUV, but feels like a sports car - takes corners perfectly, without wobbling, because the suspension is firm ("soft" drivers won't like it). Fuel consumption is ideally low - on the motorway, the average has been as low as 5.0 l/100km over a long distance. Long-term consumption is 6.0 l/100km in winter and 5.6 l/100km in summer. Responsive - you can drive relaxed, but if you want to, fast and sporty. Small engine (1.5), but 150hp is absolutely enough to drive and manoeuvre with agility.
Cons: Nothing bad to say so far
male, age 58