Nissan Qashqai 2021
For me, a flawless car, both technically and visually. I like the big, attractive steering wheel. The new Qashqai seems to have improved driveability thanks to Nissan's ride control system. The car body shakes less on rough roads when compared to the older models. Like lots of other things too - 360 camera, self-dimming mirror, split climate control, extreme braking.
read all Nissan Qashqai reviews
This generation of
Nissan Qashqai
is being produced from January, 2021. We can provide information about 4 modifications of this generation. 2021 Nissan Qashqai is available with four wheel (4x4) drive
(1 version)
and front wheel drive
(3 versions)
.
This Nissan is available with two petrol engines with displacement 1.3 litres and power of from 140 to 158 horsepower.
The car is available with both manual (2 versions), as well as automatic (2 versions) gearbox.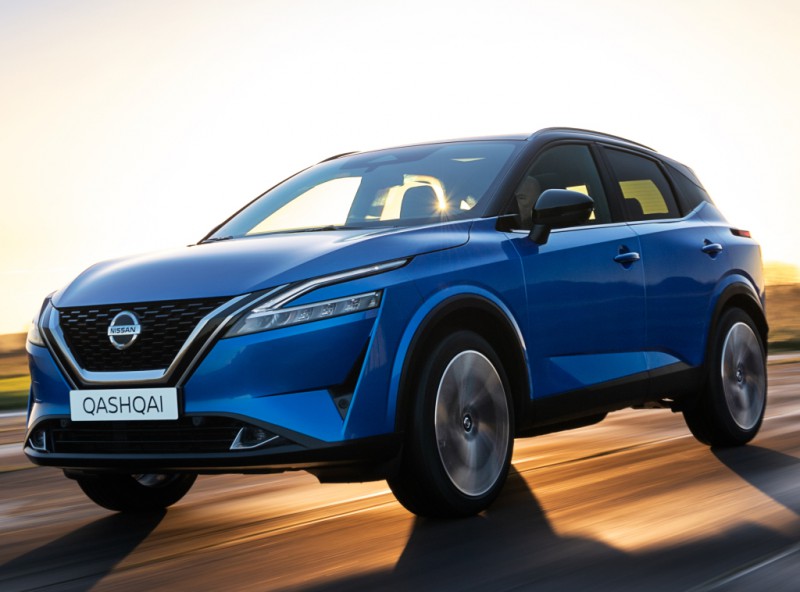 All Nissan Qashqai 2021 photos
Compare Nissan Qashqai to other cars
Nissan Qashqai 2021 average fuel consumption in combined cycle is from 5.5 to 6.2 litres per 100km. The most fuel efficient Nissan Qashqai 2021 version is Nissan Qashqai 1.3 DIG-T, consuming 5.5 litres of petrol per 100km.
According to user reviews, Nissan Qashqai real-world fuel consumption is on average about approximately for 23 percents higher as the manufacturer's claimed fuel economy. For a more detailed actual fuel economy of each model, select a specific Nissan Qashqai modification.
The best acceleration from 0 to 100 km/h - 9.2 seconds has Nissan Qashqai 1.3 DIG-T version, conversely the tardiest one is Nissan Qashqai 1.3 DIG-T reaching this speed only in 10.2 seconds. The maximum top speed is 206 km/h for the 1.3 petrol 4-cylinder 158 hp version (Nissan Qashqai 1.3 DIG-T).
Lenght of Nissan Qashqai is 443 cm, it is medium size car. Nissan Qashqai gross weight is from 1935 to 2040 kg (depending on modification), which is approximately the same as the average for cars of this age and class.
This Nissan is in average price group - it can be purchased (in Latvia) for around 30 500 €. Below you will find more detailed information about Nissan Qashqai prices and costs.
Nissan Qashqai modifications
Nissan Qashqai safety
During safety testing Nissan Qashqai has obtained 5 stars from five, which means very high safety level.
Adults (driver and passenger) safety of Nissan Qashqai is evaluated with outstanding rate 91 from 100, children safety: outstanding mark - 91 from 100, for pedestrian protection Nissan Qashqai got 70 points from 100.
Nissan Qashqai safety equipment has been rated as outstanding - 95 percents from 100.
Nissan Qashqai prices
Nissan Qashqai 2021 crossover price in Latvia is from 22000 € to 34000 €.
Comparing to analogical vehicles Nissan Qashqai price is average - Nissan Qashqai is approximately for 19 percents cheaper then average crossovers of this age (compare crossovers 2021 - 2023 prices). Despite of relatively low price Nissan Qashqai quality is above average (see below), so this Nissan can be a good buy.
Nissan Qashqai total costs of ownership
How much really costs to own Nissan Qashqai? To calculate the Nissan Qashqai total running costs, including the purchase, insurance, maintenance costs as well as taxes and other costs, click year of production
Nissan Qashqai 2021 Nissan Qashqai 2022
Nissan Qashqai 2021 features (options)
Percentage of Nissan Qashqai with corresponding feature (option)
Tire pressure control
99% Climate control
90% Distance control
88% Rain sensor
87% Conditioning
75% Metallic paint
70%
Nissan Qashqai 2021 photo images
Similar cars to Nissan Qashqai 2021
Cars similar and most compared to Nissan Qashqai 2021. Click on the image to view the car's specifications or on the "Compare..." link to compare cars.
Nissan Qashqai reviews
Total 30 Nissan Qashqai owner reviews