Peugeot 3008 2020
This generation of Peugeot 3008 is being produced from January, 2020. We can provide information about 7 modifications of this generation. 2020 Peugeot 3008 is available with four wheel (4x4) drive (1 version) and front wheel drive (6 versions).
This Peugeot is available with two petrol engines with displacement from 1.2 to 1.6 litres and power of from 131 to 181 horsepower un one diesel engine with displacement 1.5 litres and power of 131 HP un two hybrid engines with power of from 181 to 200 horsepower.
The car is available with both manual (2 versions), as well as automatic (5 versions) gearbox.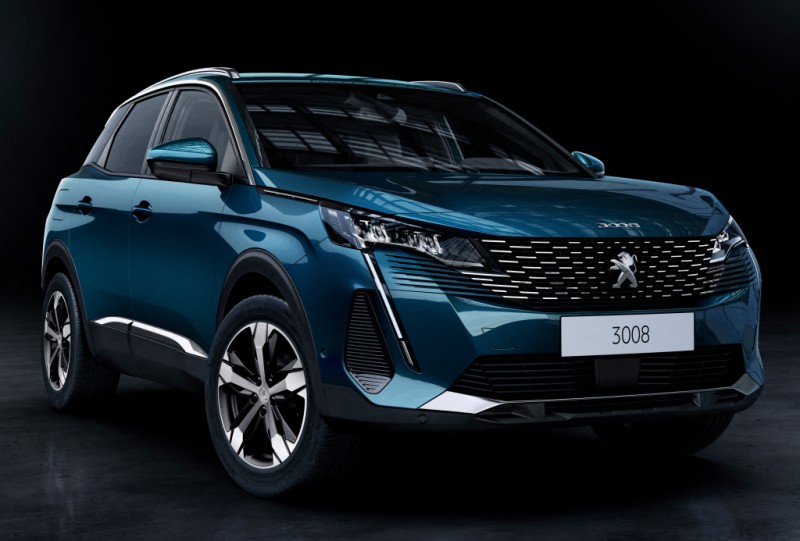 All Peugeot 3008 2020 photos
Compare Peugeot 3008 to other cars
The best acceleration from 0 to 100 km/h - 5.9 seconds has Peugeot 3008 1.6 Hybrid4 version, conversely the tardiest one is Peugeot 3008 1.5 BlueHDi reaching this speed only in 11.5 seconds. The maximum top speed is 240 km/h for the 1.6 fuel 4-cylinder 200 hp version (Peugeot 3008 1.6 Hybrid4).
Lenght of Peugeot 3008 is 445 cm, it is decent size car. Peugeot 3008 gross weight is from 1910 to 2350 kg (depending on modification), this car is about 7 percent heavier than the average for this age and class of vehicles.
This Peugeot is in average price group - it can be purchased (in Latvia) for around 30 500 €. Below you will find more detailed information about Peugeot 3008 prices and costs.
Peugeot 3008 modifications
Peugeot 3008 prices
Peugeot 3008 2020 crossover price in Latvia is from 21000 € to 39000 €.
Comparing to analogical vehicles Peugeot 3008 price is average - Peugeot 3008 is approximately for 15 percents cheaper then average crossovers of this age (compare crossovers 2020 - 2023 prices). Despite of relatively low price Peugeot 3008 quality is above average (see below), so this Peugeot can be a good buy.
Peugeot 3008 total costs of ownership
How much really costs to own Peugeot 3008?
Peugeot 3008 2020 total costs of ownership calculator
Calculate total cost of ownership of the Peugeot 3008, including purchase, insurance, maintenance, taxes and other costs based on how you use your vehicle.

Peugeot 3008 2020 features (options)
Percentage of Peugeot 3008 with corresponding feature (option)
Metallic paint
97% Climate control
90% Tire pressure control
90% Rain sensor
90% Distance control
77% Conditioning
43%
Peugeot 3008 2020 photo images
Similar cars to Peugeot 3008 2020
Cars similar and most compared to Peugeot 3008 2020. Click on the image to view the car's specifications or on the "Compare..." link to compare cars.
Peugeot 3008 reviews
Total 4 Peugeot 3008 owner reviews
At the moment we dont have reviews about Peugeot 3008 manufactured from 2020.
Find below reviews about other generations of Peugeot 3008.
Peugeot 3008 2018 Petrol 1.2 litres, Automatic gearbox
Purchase year:
2018 (age of car 0 years)
Owned for:
5`000 kilometers (0 years)
Average fuel consumption:
7.0 litres per 100km (30% urban driving)
Total car rating:
10/10
Would recomend this car to the friend
male, age 51
Peugeot 3008 2018 Petrol 1.2 litres, Automatic gearbox
Purchase year:
2018 (age of car 0 years)
Owned for:
4`000 kilometers (0 years)
Average fuel consumption:
6.0 litres per 100km (70% urban driving)
Total car rating:
9/10
Would recomend this car to the friend
female, age 57
Peugeot 3008 2018 Petrol 1.4 litres, Automatic gearbox
Purchase year:
2018 (age of car 0 years)
Owned for:
20`000 kilometers (1 year)
Average fuel consumption:
8.0 litres per 100km (70% urban driving)
Total car rating:
9/10
Would recomend this car to the friend
female, age 58