Volvo V70 1996
Fuel consumption for such a large car is small, sitting comfortable. Large capacity, when the rear seats are folded down, you can get a smooth seamless load space. Previous owner chip tuned it, power was overwhelming.
read all Volvo V70 reviews
This generation of
Volvo V70
has been produced from January, 1996 to December, 2000. We can provide information about 33 modifications of this generation. The car has been produced with front wheel drive
(26 versions)
and four wheel (4x4) drive
(7 versions)
.
This Volvo is available with 11 petrol engines with displacement from 2.0 to 2.4 litres and power of from 126 to 265 horsepower un one diesel engine with displacement 2.5 litres and power of 140 HP.
The car is available with both manual (16 versions), as well as automatic (17 versions) gearbox.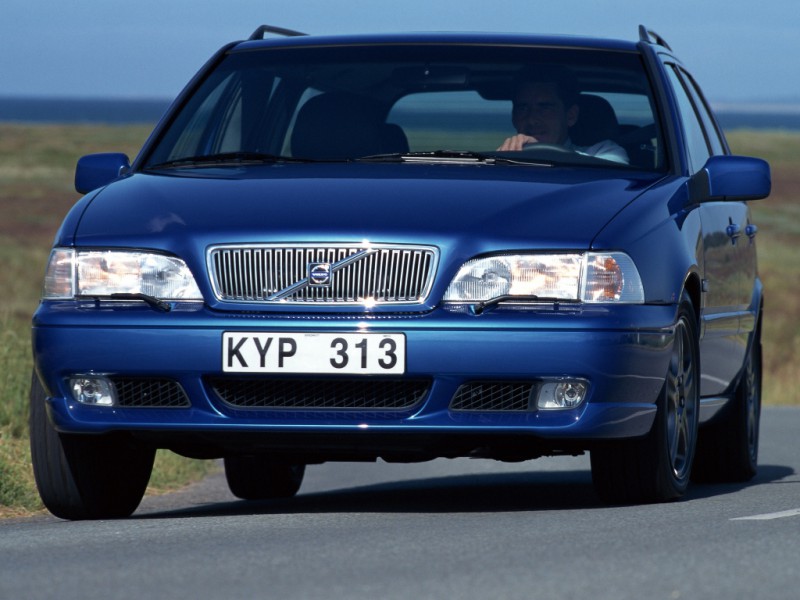 All Volvo V70 1996 photos
Compare Volvo V70 to other cars
Volvo V70 1996 average fuel consumption in combined cycle for petrol engine is from 8.6 to 12.2 litres per 100km, whereas for diesel engine - from 6.3 to 7.9 litres per 100km. The most economical Volvo V70 petrol engine version is Volvo V70 2.4, consuming 8.6 litres per 100km. While the most economical Volvo V70 diesel - Volvo V70 2.5 D for 100 kilometers consumes 6.3 liters of diesel.
Volvo V70 1996 CO2 emissions for petrol engine are from 206 to 280 grams per kilometer, whereas for diesel engine - from 168 to 194 grams per kilometer. From Volvo V70 with petrol engines the lowest CO2 emissions has Volvo V70 2.4 which produces an average of 206 grams of CO2 per kilometer. In turn, from the Volvo V70 diesels least CO2 distributes Volvo V70 2.5 D - 168 grams per km.
The best acceleration from 0 to 100 km/h - 6.8 seconds has Volvo V70 R version, conversely the tardiest one is Volvo V70 2.0 reaching this speed only in 12.5 seconds.
Lenght of Volvo V70 is 472 cm, it is decent size car. For comparison - Volvo V70 is about 1 cm longer than Mazda 6 estate car / wagon, but 2 cm shorter than Ford Scorpio estate car / wagon. Volvo V70 gross weight is from 1970 to 2160 kg (depending on modification), this car is about 20 percent heavier than the average for this age and class of vehicles.
This Volvo is in average price group - it can be purchased (in Latvia) for around 1100 €. According to user reviews, average Volvo V70 repair costs are 190 € per year. Users calculated Volvo V70 cost of ownership for this generation, got average 2200 € cost per year and 0.18 € cost per one kilometer. Fuel costs were estimated at around 63%, while repair and maintenance costs - around 24% from total. We have an excellent car cost calculator, calculate ownership costs of Volvo V70 for your situation and driving habits here! Below you will find more detailed information about Volvo V70 prices and costs.
In user reviews Volvo V70 received average grade 8.1 (from 10) - better than average rate for same years cars (7.6). Ratings are quite controversial, both positive and not so good, read more in the reviews below. 95% of reviewers would recommend this car to the friend.
Volvo V70 modifications
Volvo V70 prices
Volvo V70 1996 - 2000 estate car price in Latvia is from 600 € to 1700 €.
Comparing to analogical vehicles Volvo V70 price is above average (compare estate cars 1996 - 2000 prices).
Volvo V70 total costs of ownership
How much really costs to own Volvo V70? Users calculated Volvo V70 cost of ownership for this generation, got average 2200 € cost per year and 0.18 € cost per one kilometer.
To calculate the Volvo V70 total running costs, including the purchase, insurance, maintenance costs as well as taxes and other costs, click year of production
Volvo V70 1996 Volvo V70 1997 Volvo V70 1998 Volvo V70 1999 Volvo V70 2000
Volvo V70 reliability and quality
According to yearly reports of German vehicle inspection service (TÜV) Volvo V70 quality is average. In the roadworthiness tests carried out in 2012, defects were detected in an average of 27 percent of Volvo V70 of this generation (the average failure rate for a vehicles of the same age was 26.8%).
Volvo V70 1996 features (options)
Percentage of Volvo V70 with corresponding feature (option)
Conditioning
70% Adjustable steering wheel
64% Roof bars (railings)
59% Leather upholstery
53% Climate control
52% Metallic paint
46% Heated seats
39% Cruise control
37% Electrically adjustable seats
12% Sunroof
11%
Volvo V70 1996 photo images
Volvo V70 reviews
Total 105 Volvo V70 owner reviews