A small, comfortable, relatively affordable, if driving one or two persons. From front very similar to Golf.
read all Volkswagen Polo reviews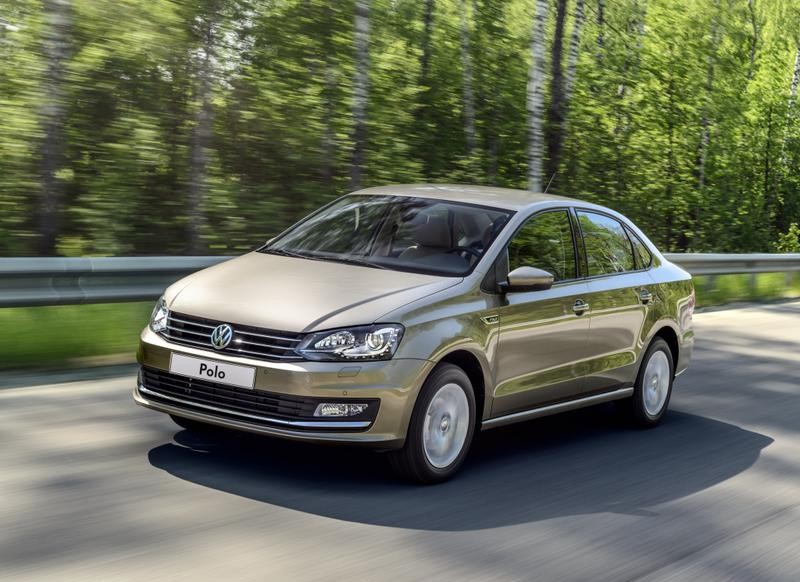 All Volkswagen Polo sedan photos
Compare Volkswagen Polo to other cars
This generation of Volkswagen Polo is being produced from January, 2015. We can provide information about 3 modifications of this generation. The car is available only with front wheel drive.
This Volkswagen (VW) is available with two petrol engines with displacement 1.6 litres and power of from 85 to 105 horsepower.
The car is available with both manual (2 versions), as well as automatic (1 version) gearbox.
Volkswagen Polo average fuel consumption in combined cycle is from 6.4 to 7 litres per 100km. The most economical Volkswagen Polo version is Volkswagen Polo 1.6, consuming 6.4 litres of petrol per 100km.
The best acceleration from 0 to 100 km/h - 10.5 seconds has Volkswagen Polo 1.6 version, conversely the tardiest one is Volkswagen Polo 1.6 reaching this speed only in 12.1 seconds.
Lenght of Volkswagen Polo is 439 cm, it is medium size car. Volkswagen Polo gross weight is from 1660 to 1700 kg (depending on modification), which is approximately the same as the average for cars of this age and class.
Below you will find more detailed information about Volkswagen Polo prices and costs.
In user reviews Volkswagen Polo received average grade 5.3 (from 10) which is relatively low, considering average rate 7.9 for similar aged cars. 67% of reviewers would recommend this car to the friend.
Volkswagen Polo modifications
Volkswagen Polo total costs of ownership
To calculate the Volkswagen Polo total running costs, including the purchase, insurance, maintenance costs as well as taxes and other costs, click year of production
2015 2016 2017 2018 2019 2020
Volkswagen Polo mileage
To estimate approximate Volkswagen Polo mileage, please choose production year
2015 2016 2017 2018 2019 2020
The VIN (Vehicle Identification Number) is a combination of seventeen letters and numbers that identifies a particular vehicle. The VIN number can be found on the car registration certificate as well as on the car body.
Volkswagen Polo quality
production year from 2015 to 2021
According to yearly reports of German vehicle inspection service (TÜV) Volkswagen Polo quality is above average.
During regular inspections failures are found for approximately 4.4 percents of Volkswagen Polo.
Learn more about used car reliability: Most reliable 5-6 year old used cars,
Most reliable 5-6 year old used sedans
Year of inspection
Age of car
Failures found %
/ average for same age cars
Place in rating
Volkswagen Polo produced in 2015
2017
2 years
4.4% / 5.70%
43. from 134
Volkswagen Polo sedan features (options)
Percentage of Volkswagen Polo with corresponding feature (option)
Heated seats
100% Climate control
80% Electrically adjustable seats
60% Conditioning
60% Rain sensor
60% Front parking sensors
60% Adaptive cruise control
40% Rear parking sensors
40% Adjustable steering wheel
40% Tire pressure control
40% Cruise control
40% Navigation
20% Xenon headlights
20% Leather upholstery
20% Roof bars (railings)
20% Rear-view camera
20% Metallic paint
20%
Volkswagen Polo sedan photo images
Volkswagen Polo reviews