Moskvitch 412 Sedan
Cheap and good repairable
read all Moskvitch 412 reviews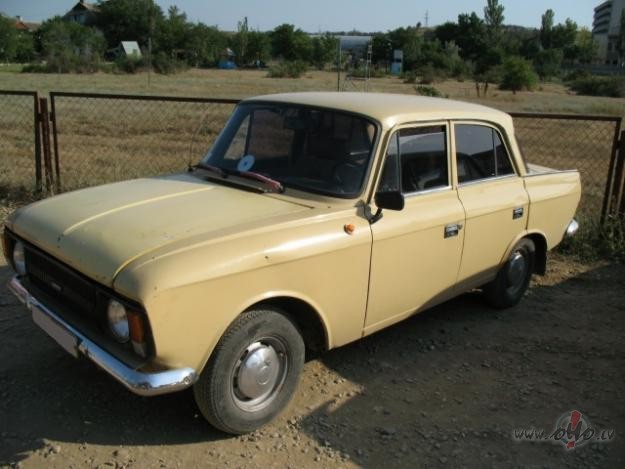 All Moskvitch 412 sedan photos
Compare Moskvitch 412 to other cars
This generation of Moskvitch 412 has been produced from January, 1967 to January, 1997. We can provide information about 1 modification of this generation. The car has been produced only with classical rear wheel drive.
This Moskvich is available with one petrol engine with displacement 1.5 litres and power of 75 HP.
The car is available with only with manual gearbox.
According to user reviews, average Moskvitch 412 repair costs are 10 $ per year. Below you will find more detailed information about Moskvitch 412 prices and costs.
In user reviews Moskvitch 412 received average grade 9.5 (from 10), which is good rating, on average cars of this age are rated only 7.5. All authors of reviews would recommend Moskvitch 412 to the friend.
Moskvitch 412 modifications
Modification
Engine
Power
Fuel cons.
Moskvitch 412 1.5B

Jan 1967 — Jan 1997

1.5 Petrol
75 HP
-
The VIN (Vehicle Identification Number) is a combination of seventeen letters and numbers that identifies a particular vehicle. The VIN number can be found on the car registration certificate as well as on the car body.
Moskvitch 412 sedan photo images
Moskvitch 412 reviews
Moskvitch 412 1980.year Petrol 1.5 litres, Manual gearbox
Purchase year:
1980 (age of car 0 years)
Owned for:
200`000 kilometers (10 years)
Average fuel consumption:
7.0 litres per 100km (50% urban driving)
Total cost of repairs:
222 $ (~ 22 $ per year)
Total car rating:
10/10
Would recomend this car to the friend
Review - positive and negative sides

With a guarantee every evening will be back in garage by own forces.

On any car can say something bad.
male, age 64
Moskvitch 412 1986.year Petrol 1.8 litres, Manual gearbox
Purchase year:
1988 (age of car 2 years)
Owned for:
200`000 kilometers (8 years)
Average fuel consumption:
9.0 litres per 100km (70% urban driving)
Total cost of repairs:
41.07 $ (~ 5 $ per year)
Total car rating:
9/10
Would recomend this car to the friend

Cheap and good repairable

Heavy
male, age 46