Volkswagen Fox 2005
Powerful, comfortable and very stable
read all Volkswagen Fox reviews
This generation of
Volkswagen Fox
has been produced from June, 2005 to January, 2011. We can provide information about 3 modifications of this generation. The car has been produced only with front wheel drive.
This Volkswagen (VW) is available with two petrol engines with displacement from 1.2 to 1.4 litres and power of from 55 to 75 horsepower un one diesel engine with displacement 1.4 litres and power of 70 HP.
The car is available with only with manual gearbox.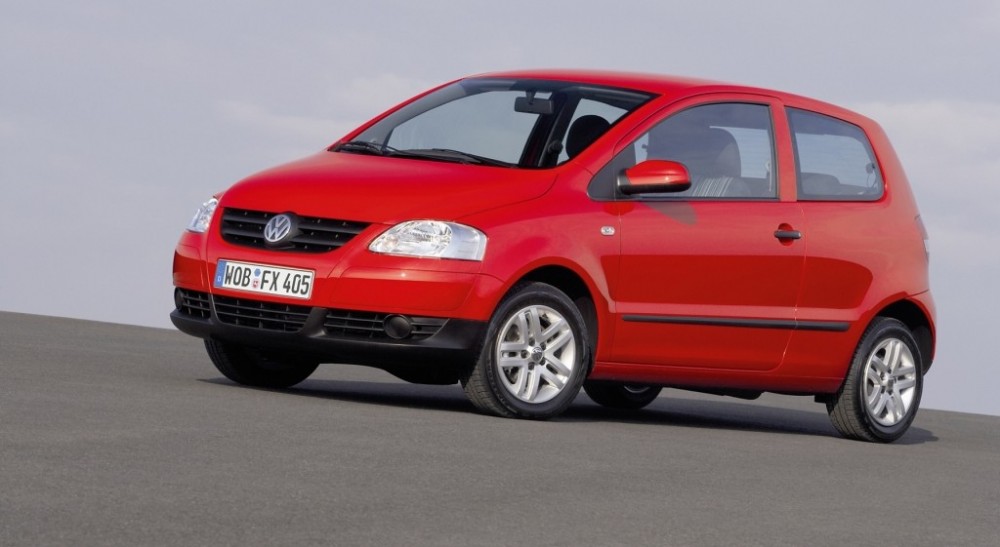 All Volkswagen Fox 2005 photos
Compare Volkswagen Fox to other cars
Volkswagen Fox 2005 average fuel consumption in combined cycle for petrol engine is from 6 to 6.7 litres per 100km, but for diesel engine - approximately 4.9 litres per 100km. The most fuel efficient Volkswagen Fox 2005 petrol engine version is Volkswagen Fox 1.2, consuming 6 litres per 100km.
According to user reviews, Volkswagen Fox real-world fuel consumption is on average about approximately for 5 percents higher as the manufacturer's claimed fuel economy (on average +8% for petrol engines and the same for diesel engines). For a more detailed actual fuel economy of each model, select a specific Volkswagen Fox modification.
Volkswagen Fox 2005 CO2 emissions for petrol engine are from 144 to 161 grams per kilometer, but for diesel engine - approximately 132 grams per kilometer. From Volkswagen Fox with petrol engines the lowest CO2 emissions has Volkswagen Fox 1.2 which produces an average of 144 grams of CO2 per kilometer.
The best acceleration from 0 to 100 km/h - 13 seconds has Volkswagen Fox 1.4 version, conversely the tardiest one is Volkswagen Fox 1.2 reaching this speed only in 18 seconds. The maximum top speed is 167 km/h for the 1.4 petrol 4-cylinder 75 hp version (Volkswagen Fox 1.4).
Lenght of Volkswagen Fox is 383 cm, it is small car. Volkswagen Fox gross weight is from 1480 to 1570 kg (depending on modification), which is approximately the same as the average for cars of this age and class. Volkswagen Fox trunk space is 260 litres, by folding down all rear seats boot capacity can be increased to 1016 litres.
This Volkswagen (VW) is in average price group - it can be purchased (in Latvia) for around 2000 €. According to user reviews, average Volkswagen Fox repair costs are 75 € per year. Users calculated Volkswagen Fox 2005 cost of ownership for this generation, got average 1700 € cost per year and 0.15 € cost per one kilometer. Fuel costs were estimated at around 59%, while repair and maintenance costs - around 28% from total. We have an excellent car cost calculator, calculate ownership costs of Volkswagen Fox for your situation and driving habits here! Below you will find more detailed information about Volkswagen Fox prices and costs.
Volkswagen Fox modifications
Volkswagen Fox safety
During safety testing Volkswagen Fox has obtained 4 stars from five, which means good safety level.
Adults (driver and passenger) safety of Volkswagen Fox is evaluated with four stars, children safety - with four stars, and for pedestrian protection Volkswagen Fox got two stars.
Volkswagen Fox prices
Volkswagen Fox 2005 - 2011 hatchback price in Latvia is from 700 € to 3000 €.
Comparing to analogical vehicles Volkswagen Fox price is below average - Volkswagen Fox is approximately for 15 percents cheaper then average hatchbacks of this age (compare hatchbacks 2005 - 2011 prices). The reason of Volkswagen Fox low price could be its poor quality (see below) so we recommend particularly examine the car before purchase and do not choose it only by price.
Volkswagen Fox total costs of ownership
How much really costs to own Volkswagen Fox? Users calculated Volkswagen Fox 2005 cost of ownership for this generation, got average 1700 € cost per year and 0.15 € cost per one kilometer.
To calculate the Volkswagen Fox total running costs, including the purchase, insurance, maintenance costs as well as taxes and other costs, click year of production
2005 2006 2007 2008 2009 2010 2011
Volkswagen Fox 2005 features (options)
Percentage of Volkswagen Fox with corresponding feature (option)
Metallic paint
49% Adjustable steering wheel
47% Conditioning
39% Climate control
18%
Volkswagen Fox 2005 photo images
Similar cars to Volkswagen Fox 2005
Cars similar and most compared to Volkswagen Fox 2005. Click on the image to view the car's specifications or on the "Compare..." link to compare cars.
Volkswagen Fox reviews
Volkswagen Fox 2005 Diesel 1.4 litres, Manual gearbox
Purchase year:
2015 (age of car 10 years)
Owned for:
10`000 kilometers (1 year)
Average fuel consumption:
4.5 litres per 100km (60% urban driving)
Total cost of repairs:
680 € (~ 680 € per year)
Total car rating:
8/10
Would recomend this car to the friend
Review - positive and negative sides
Pros: A convenient seat, spacious place, economical, a good burst of speed.
Cons: 3 cylinders, 4 seats.
female, age 44
Volkswagen Fox 2007 Petrol 1.6 litres, Manual gearbox
Purchase year:
2007 (age of car 0 years)
Owned for:
135`000 kilometers (11 years)
Average fuel consumption:
10.0 litres per 100km (80% urban driving)
Total cost of repairs:
845 € (~ 76 € per year)
Total car rating:
4/10
Would NOT recomend this car to the friend
Review - positive and negative sides
Pros: It's 100% for the city, but it spends some fuel
Cons: Many repairs per piece of plastic, very delicate parts
male, age 45