Smart ForFour Hatchback 2004
Weighs only a ton! Accordingly, 1.5 petrol engine moves this light groundhog much better than you might expect. Also, due to weight of steering is very precise, less eating tyres and other things, low consumption. In short - super carting. Lot of space for people in back seats, but small trunk - however, moving rear seat may reach opposite effect.
read all Smart ForFour reviews
This generation of Smart ForFour has been produced from April, 2004 to October, 2006. We can provide information about 14 modifications of this generation. The car has been produced only with front wheel drive.
This Smart is available with six petrol engines with displacement from 1.1 to 1.5 litres and power of from 64 to 177 horsepower un two diesel engines with displacement 1.5 litres and power of from 68 to 95 horsepower.
The car is available with both manual (8 versions), as well as automatic (6 versions) gearbox.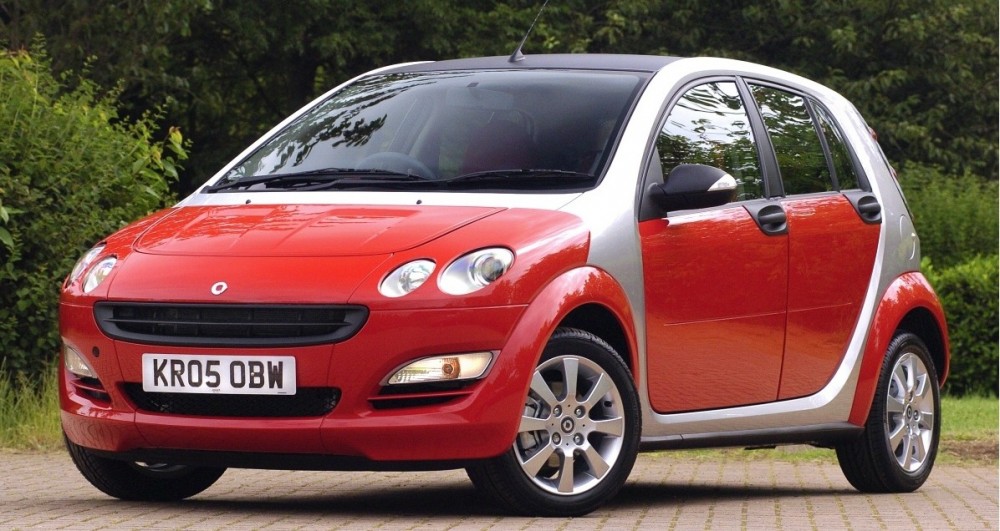 All Smart ForFour hatchback photos
Compare Smart ForFour to other cars
Smart ForFour hatchback average fuel consumption in combined cycle for petrol engine is from 5.3 to 6.8 litres per 100km, but for diesel engine - approximately 4.6 litres per 100km. The most economical Smart ForFour petrol engine version is Smart Forfour 1.1, consuming 5.3 litres per 100km. While the most economical Smart ForFour diesel - Smart Forfour 1.5 Cdi for 100 kilometers consumes 4.6 liters of diesel.
Smart ForFour hatchback CO2 emissions for petrol engine are from 125 to 159 grams per kilometer, whereas for diesel engine - from 116 to 121 grams per kilometer. From Smart ForFour with petrol engines the lowest CO2 emissions has Smart Forfour 1.1 which produces an average of 125 grams of CO2 per kilometer. In turn, from the Smart ForFour diesels least CO2 distributes Smart Forfour 1.5 Cdi - 116 grams per km.
The best acceleration from 0 to 100 km/h - 6.9 seconds has Smart Forfour 1.5 Brabus version, conversely the tardiest one is Smart Forfour 1.0 reaching this speed only in 15.3 seconds.
Lenght of Smart ForFour is 375 cm, it is small car. Smart ForFour gross weight is 750 kg.
This Smart is quite costly - it can be purchased (in Latvia) for around 2500 $. According to user reviews, average Smart ForFour repair costs are 40 $ per year. Users calculated Smart ForFour cost of ownership for this generation, got average 1500 € cost per year and 0.18 € cost per one kilometer. Fuel costs were estimated at around 48%, while repair and maintenance costs - around 33% from total. We have an excellent car cost calculator, calculate ownership costs of Smart ForFour for your situation and driving habits here! Below you will find more detailed information about Smart ForFour prices and costs.
In user reviews Smart ForFour received average grade 8.0 (from 10) it corresponds to average rate for cars of this age. All authors of reviews would recommend Smart ForFour to the friend.
Smart ForFour modifications
Smart ForFour safety
During safety testing Smart ForFour has obtained 4 stars from five, which means good safety level.
Adults (driver and passenger) safety of Smart ForFour is evaluated with four stars, children safety - with two stars, and for pedestrian protection Smart ForFour got one star.
Smart ForFour prices
Smart ForFour 2004 - 2006 hatchback price in Latvia is from 1200 $ to 3200 $.
Comparing to analogical vehicles Smart ForFour price is very high - Smart ForFour is approximately for 47 percents more expensive then average hatchbacks of this age (compare hatchbacks 2004 - 2006 prices).
| Year | Lowest | Average | Highest | Availability |
| --- | --- | --- | --- | --- |
| Smart ForFour 2006 price | 2100 $ | 2700 $ | 3200 $ | |
| Smart ForFour 2005 price | 1200 $ | 2400 $ | 3200 $ | |
| Smart ForFour 2004 price | 2100 $ | 2400 $ | 2700 $ | |
Smart ForFour total costs of ownership
How much really costs to own Smart ForFour? Users calculated Smart ForFour cost of ownership for this generation, got average 1500 € cost per year and 0.18 € cost per one kilometer.
To calculate the Smart ForFour total running costs, including the purchase, insurance, maintenance costs as well as taxes and other costs, click year of production
Smart ForFour 2004 Smart ForFour 2005 Smart ForFour 2006
Smart ForFour reliability and quality
According to yearly reports of German vehicle inspection service (TÜV) Smart ForFour quality is average. In the roadworthiness tests carried out in 2012, deffects were detected in an average of 12.8 percent of Smart ForFour of this generation.
Smart ForFour hatchback features (options)
Percentage of Smart ForFour with corresponding feature (option)
Conditioning
86% Adjustable steering wheel
62% Metallic paint
58% Panoramic sunroof
32% Climate control
20% Heated seats
15% Sunroof
12%
Smart ForFour hatchback photo images
Smart ForFour reviews
Smart ForFour 2004 Petrol 1.5 litres, Manual gearbox
Purchase year:
2014 (age of car 10 years)
Owned for:
100`000 kilometers (2 years)
Average fuel consumption:
7.0 litres per 100km (60% urban driving)
Total cost of repairs:
77.7 $ (~ 38 $ per year)
Total car rating:
8/10
Would recomend this car to the friend
Review - positive and negative sides
Weighs only a ton! Accordingly, 1.5 petrol engine moves this light groundhog much better than you might expect. Also, due to weight of steering is very precise, less eating tyres and other things, low consumption. In short - super carting. Lot of space for people in back seats, but small trunk - however, moving rear seat may reach opposite effect.
Bad sound insulation. Stiff. If city lack of respect, if driving following rules.
male, age 30