Mitsubishi Colt 2007 CZ5 1.5
Mitsubishi Colt 2007 1.5 petrol description
Hatchback Mitsubishi Colt 2007 CZ5 1.5 has been produced from January, 2007 to January, 2008. It has four-cylinder petrol engine with displacement of 1.5 litres, which produces power of 109 horsepower on 6000 rpm - this is the most powerfull Mitsubishi Colt 2007 - 2008 version and torque 145 Nm (Newton metres) on 4000 revolutions per minute.
This 4-cylinder 16-valve engine camshaft is driven by chain (What is an engine chain and belt? ). Engine has fuel injection system, it has no turbine. Engine versions compliant with Euro 4 and Euro 5 emission standards available. Approximate engine life expectancy (mileage until serious repairs are required) for this engine is between 200 000 and 330 000 kilometres. Remember that engine life depends on regular maintenance and the quality of the materials used (oils, fuels, etc.).
More engine specs
This Mitsubishi Colt 1.5 engine oil type is 5W-30 and oil capacity is 4 litres.
Mitsubishi Colt 2007 CZ5 1.5 has front wheel drive (FWD) and manual gearbox with 5 gears.
Mitsubishi Colt 2007 CZ5 1.5 accelerates to speed 100 kilometres per hour in 10 seconds. The maximum speed of this car is 190 km/h.
In combined cycle (city and motorway), the Mitsubishi Colt 2007 CZ5 1.5 fuel consumption is 6.2 litres per 100km (16.1 km/l), city fuel economy - 8 l/100km, fuel consumption on highway - 5.1 l/100km. Fuel tank capacity is 47 litres or 12.42 gallons, which gives a mileage up to 740 kilometers without refueling in urban cycle and even up to 920 kilometers on highway.
According to user reviews, this Mitsubishi real everyday fuel consumption is 6.7 litres per 100 km, which is 8% more than the manufacturer's stated. More - Real Mitsubishi Colt fuel consumption.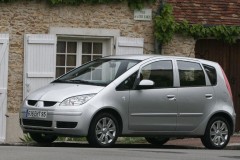 Mitsubishi Colt 2007 CZ5 1.5 technical data
Model:
Mitsubishi Colt CZ5 1.5
Body style:
Hatchback
Production period:
2007. January ... 2008. January
Engine:
1499 cm3 Petrol, 4 cylinders
CO2 emissions:
148 g/km
Power:
109 HP ON 6000 RPM
Torque:
145 NM ON 4000 RPM
Gearbox:
Manual gearbox (5 gears)
Drive type:
Front wheel drive (FWD)
Top speed:
190 km/h
Acceleration 0-100 km/h:
10.0 seconds
Fuel consumption (l/100km):
6.2 (combined) 8.0 (urban) 5.1 (highway)
Real fuel consumption:
6.7 l/100km (35.1 MPG) by user reviews from various sources
Fuel tank capacity:
47 litres (12.4 gallons)
Car dimensions:
3.87m (length) 1.70m (width) 1.55m (height)
Turning diameter:
10.8 meters
Trunk capacity:
220 litres
Trunk max capacity:
854 litres (with rear seats folded down)
Mitsubishi Colt 2007 CZ5 1.5 engine 4A91
Engine reliability:
Overall, this engine can last around 200,000 to 330,000 km if properly maintained, using the correct quality oil and fuel, and carrying out regular checks and maintenance.
Engine displacement
1499 cm3
Number of cylinders
4
Bore (cylinder diameter)
75 mm
Stroke length (piston move)
84.8 mm
Compression ratio
10.5 : 1
Camshaft drive
Timing chain

Chain motors are considered more reliable, chain replacement usually is required less often than a timing belt, but they are often louder and vibrate more.

Fuel system
Injection
Mitsubishi Colt 2007 CZ5 1.5 oil type
5W-30
Oil capacity
4 litres (4.2 quarts)
Power
109 HP ON 6000 RPM
Torque
145 NM ON 4000 RPM
Start of production (year)
2004
Duration of production
19 years
Engine also used on
Mitsubishi Lancer Smart ForFour Mitsubishi Xpander

Generally, the use of an engine in several models and its long production run is an indication of the quality of the engine and the success of its design.
Carmakers tend to use similar engines with different parameters for models available in different markets and time periods.
All Mitsubishi Colt hatchback
[2007 - 2008]

modifications