Volkswagen Passat 2014 Sedan
This generation of Volkswagen Passat has been produced from January, 2014 to January, 2019. We can provide information about 9 modifications of this generation. 2014 Volkswagen Passat is available with four wheel (4x4) drive (1 version) and front wheel drive (8 versions).
This Volkswagen (VW) is available with three petrol engines with displacement from 1.4 to 1.8 litres and power of from 122 to 180 horsepower un two diesel engines with displacement 2.0 litres and power of from 150 to 240 horsepower.
The car is available with both manual (4 versions), as well as automatic (5 versions) gearbox.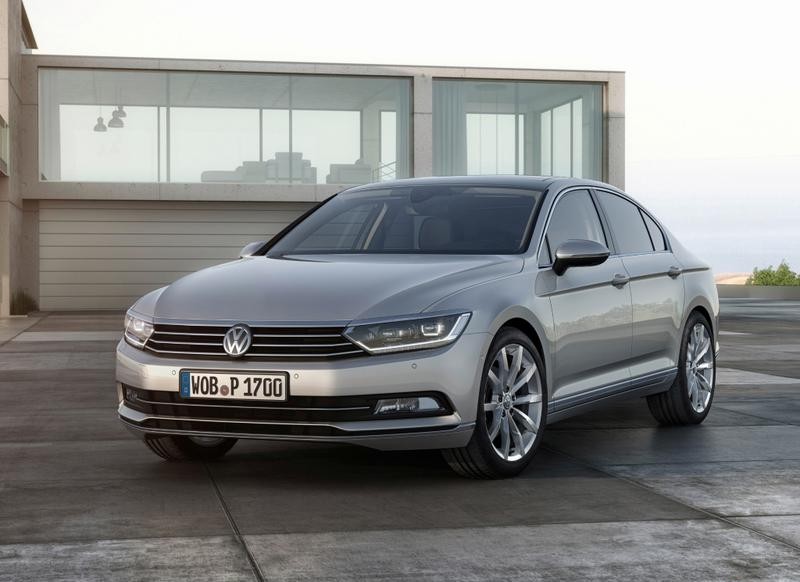 All Volkswagen Passat 2014 sedan photos
Compare Volkswagen Passat to other cars
Volkswagen Passat 2014 sedan average fuel consumption in combined cycle for petrol engine is approximately 5 litres per 100km, whereas for diesel engine - from 4.1 to 5.3 litres per 100km. While the most fuel efficient Volkswagen Passat 2014 sedan diesel - Volkswagen Passat 2.0 TDi for 100 kilometers consumes 4.1 liters of diesel.
According to user reviews, Volkswagen Passat real-world fuel consumption is on average about approximately for 38 percents higher as the manufacturer's claimed fuel economy (on average +34% for petrol engines and +42% for diesel engines). For a more detailed actual fuel economy of each model, select a specific Volkswagen Passat modification.
The best acceleration from 0 to 100 km/h - 6.1 seconds has Volkswagen Passat 2.0 TDI 4Motion version, conversely the tardiest one is Volkswagen Passat 2.0 TDi reaching this speed only in 8.7 seconds. The maximum top speed is 240 km/h for the 2.0 diesel 240 hp version (Volkswagen Passat 2.0 TDI 4Motion).
Lenght of Volkswagen Passat is 477 cm, it is decent size car. For comparison - Volkswagen Passat is about 2 cm longer than Toyota Avensis sedan, but 8 cm shorter than Volvo S80. Volkswagen Passat gross weight is from 1940 to 2260 kg (depending on modification), which is approximately the same as the average for cars of this age and class. Volkswagen Passat trunk space is 586 litres.
This Volkswagen (VW) is in average price group - it can be purchased (in Latvia) for around 16 500 €. According to user reviews, average Volkswagen Passat repair costs are 75 € per year. Users calculated Volkswagen Passat 2014 cost of ownership for this generation, got average 4600 € cost per year and 0.24 € cost per one kilometer. Fuel costs were estimated at around 42%, while repair and maintenance costs - around 18% from total. We have an excellent car cost calculator, calculate ownership costs of Volkswagen Passat for your situation and driving habits here! Below you will find more detailed information about Volkswagen Passat prices and costs.
Volkswagen Passat modifications
Volkswagen Passat safety
During safety testing Volkswagen Passat has obtained 5 stars from five, which means very high safety level.
Adults (driver and passenger) safety of Volkswagen Passat is evaluated with very good rate 85 from 100, children safety: very good mark - 87 from 100, for pedestrian protection Volkswagen Passat got 66 points from 100.
Volkswagen Passat safety equipment has been rated as good - 76 percents from 100.
Volkswagen Passat prices
Volkswagen Passat 2014 - 2019 sedan price in Latvia is from 6000 € to 33500 €.
Comparing to analogical vehicles Volkswagen Passat price is below average - Volkswagen Passat is approximately for 17 percents cheaper then average sedans of this age (compare sedans 2014 - 2019 prices). The reason of Volkswagen Passat low price could be its poor quality (see below) so we recommend particularly examine the car before purchase and do not choose it only by price.
Volkswagen Passat total costs of ownership
How much really costs to own Volkswagen Passat? Users calculated Volkswagen Passat 2014 cost of ownership for this generation, got average 4600 € cost per year and 0.24 € cost per one kilometer.
Volkswagen Passat 2014 total costs of ownership calculator
Calculate total cost of ownership of the Volkswagen Passat, including purchase, insurance, maintenance, taxes and other costs based on how you use your vehicle.

Volkswagen Passat 2014 sedan features (options)
Percentage of Volkswagen Passat with corresponding feature (option)
Climate control
84% Rain sensor
77% Tire pressure control
67% Metallic paint
67% Conditioning
55% Front parking sensors
50% Heated seats
49% Adjustable steering wheel
45% Rear parking sensors
44% Distance control
40% Cruise control
38% Electrically adjustable seats
34% Rear-view camera
29% Adaptive cruise control
28% Navigation
25% Leather upholstery
20% Dimming mirrors
19% Xenon headlights
15% Bi-xenon lights
15%
Volkswagen Passat 2014 sedan photo images
Similar cars to Volkswagen Passat 2014
Cars similar and most compared to Volkswagen Passat 2014. Click on the image to view the car's specifications or on the "Compare..." link to compare cars.
Volkswagen Passat reviews
Total 140 Volkswagen Passat owner reviews
Volkswagen Passat 2016 Sedan Diesel 2.0 litres, Automatic gearbox
Purchase year:
2016 (age of car 0 years)
Owned for:
76`000 kilometers (4 years)
Average fuel consumption:
5.6 litres per 100km (70% urban driving)
Total cost of repairs:
300 € (~ 75 € per year)
Total car rating:
7/10
Would recomend this car to the friend
Review - positive and negative sides
Pros: Comfortable for longer distances, dynamic
Cons: The car engine is quite loud in the cabin.
male, age 55