Opel Adam 2012 S 1.4 Turbo
Opel Adam 2012 1.4 petrol description
Hatchback Opel Adam 2012 S 1.4 Turbo has been produced from January, 2018 to December, 2019. It has four-cylinder petrol engine with displacement of 1.4 litres, which produces power of 150 horsepower on 5000 rpm - this is the most powerfull Opel Adam 2012 - 2019 version and torque 220 Nm (Newton metres) on 3000 revolutions per minute.
Opel Adam 2012 S 1.4 Turbo has front wheel drive (FWD) and manual gearbox with 6 gears.
Opel Adam 2012 S 1.4 Turbo accelerates to speed 100 kilometres per hour in 8.5 seconds. The maximum speed of this car is 210 km/h.
The fuel consumption of this version of Opel Adam 2012 S 1.4 Turbo reported by owners in daily driving mode is 7.5 litres per 100km.
Opel Adam safety
During safety testing Opel Adam has obtained 4 stars from five, which means good safety level.
Adults (driver and passenger) safety of Opel Adam is evaluated with very good rate 87 from 100, children safety: good mark - 72 from 100, for pedestrian protection Opel Adam got 65 points from 100.
Opel Adam safety equipment has been rated as very good - 81 percents from 100.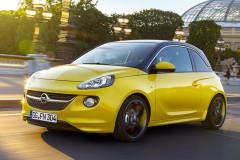 Opel Adam 2012 S 1.4 Turbo technical data
Model:
Opel Adam S 1.4 Turbo
Body style:
Hatchback
Production period:
2018. January ... 2019. December
Engine:
1364 cm3 Petrol, 4 cylinders
CO2 emissions:
no data
Power:
150 HP ON 5000 RPM
Torque:
220 NM ON 3000 RPM
Gearbox:
Manual gearbox (6 gears)
Drive type:
Front wheel drive (FWD)
Top speed:
210 km/h
Acceleration 0-100 km/h:
8.5 seconds
Fuel consumption:
7.5 l/100km (31.4 MPG) by user reviews from various sources
Fuel tank capacity:
35 litres (9.2 gallons)
Car dimensions:
3.70m (length) 1.72m (width) 1.48m (height)
Turning diameter:
11.1 meters
Seats:
4 seats
Trunk capacity:
170 litres
Trunk max capacity:
663 litres (with rear seats folded down)
Gross weight:
1565 kg
All Opel Adam hatchback
[2012 - 2019]

modifications