Mercedes SLC 300
Mercedes SLC 2.0 petrol description
Cabrio Mercedes SLC 300 is being produced from January, 2016. It has petrol engine with displacement of 2.0 litres, which produces power of 245 horsepower on 5500 rpm and torque 370 Nm (Newton metres) on 1300 revolutions per minute.
Mercedes SLC 300 has classical rear wheel drive (RWD) and automatic gearbox with 9 gears.
Mercedes SLC 300 accelerates to speed 100 kilometres per hour in 5.8 seconds. The maximum speed of this car is 250 km/h.
The fuel consumption of this version of Mercedes SLC 300 in combined mode (combining urban and highway driving) is 6.2 litres per 100km (16.1 km/l) - this is one of most economical Mercedes SLC 2016 versions, fuel consumption in city - 7.8 l/100km, fuel consumption on highway - 5.2 l/100km. Fuel tank capacity is 60 litres, which means you'll be able to drive up to 960 kilometers without refueling in urban cycle and even up to 1140 kilometers on highway.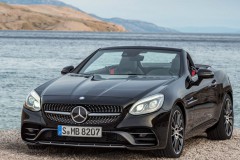 Mercedes SLC 300 technical data
Model:
Mercedes SLC 300
Body style:
Cabrio
Production period:
2016. January
Engine:
1991 cm3 Petrol
CO2 emissions:
no data
Power:
245 HP ON 5500 RPM
Torque:
370 NM ON 1300 RPM
Gearbox:
Automatic gearbox (9 gears)
Drive type:
Rear wheel drive (RWD)
Maximum speed:
250 km/h
Acceleration 0-100 km/h:
5.8 seconds
Fuel consumption (l/100km):
6.2 (combined) 7.8 (urban) 5.2 (highway)
Fuel tank capacity:
60 litres
Car dimensions:
4.13m (length) 1.81m (width) 1.30m (height)
Turning diameter:
10.52 meters
Trunk capacity:
225 litres
Gross weight:
1820 kg
All Mercedes SLC cabrio
[2016 modifications
Modification
Engine
Power
Consumption
Gearbox
Mercedes SLC 180

Jan 2016 —

1.6 Petrol
156 HP
5.8 l/100km
Manual (6 gears)
Mercedes SLC 180

Jan 2016 —

1.6 Petrol
156 HP
5.6 l/100km
Automatic (9 gears)
Mercedes SLC 200

Jan 2016 —

2.0 Petrol
184 HP
6.2 l/100km
Automatic (9 gears)
Mercedes SLC 300

Jan 2016 —

2.0 Petrol
245 HP
6.2 l/100km
Automatic (9 gears)
Mercedes SLC 43 AMG

Jan 2016 —

3.0 Petrol
367 HP
7.8 l/100km
Automatic (9 gears)