Mazda 3 2006 Hatchback
Economic and cheap operation, do not require efforts to maintain, good visual appearance.
read all Mazda 3 reviews
This generation of Mazda 3 has been produced from January, 2006 to December, 2009. We can provide information about 8 modifications of this generation. The car has been produced only with front wheel drive.
The vehicle body is designed according to the new MAIDAS proprietary concept, which is based on a special body structure called Triple-H. The design of the front bumper reduces the risk of serious injury for pedestrians. Six airbags and belts with pretensioners are included in the basic equipment. Some versions are equipped with the DSC stabilization system.

The 1.6-litre petrol engine has the best dynamics-to-cost ratio, as the 1.4-litre engine is sluggish, while the 2.0-litre engine is powerfull but noisy. The diesel engine is economical but lazy. The 1.6-litre engine averages just over 7 litres per 100 km, while the diesel engine consumes around 5 litres per 100 km.

Mazda 3 has high level of driver and passenger comfort. Front seats has sporty shape, steering column is adjustable for tilt and reach. Two passengers can easily and freely seat themselves on the rear sofa, for three there will be quite uncomfortable. Cabin has lots of space for storing travel essentials. Versions without navigation system, have large storage compartment. The volume of the glove box is 11 liters, and between front seats there is a box with two compartments. The trunk volume is 413 liters in the sedan and 300 liters in the hatchback, folding of rear seats gives almost flat floor and 635 liters of cargo volume.

Cars with 2-liter engine are equipped with electro-hydraulic power steering, others - simple hydraulic. Disc brakes on all wheels (ventilated in front) provide good deceleration. Mazda 3 is one of the best small hatchbacks in terms of handling, partly due to the suspension's design: the front McPherson is assembled on a subframe, the multilever scheme is used behind. Low profile tires also make a contribution. However, the same tires together with short stroke of suspension negatively influence a smooth running. The ride is firm but not unbearable - you hardly feel it on the motorway, and you can enjoy the car's confident handling.


This Mazda is available with four petrol engines with displacement from 1.3 to 2.3 litres and power of from 84 to 265 horsepower un three diesel engines with displacement from 1.6 to 2.0 litres and power of from 90 to 143 horsepower.
The car is available with both manual (7 versions), as well as automatic (1 version) gearbox.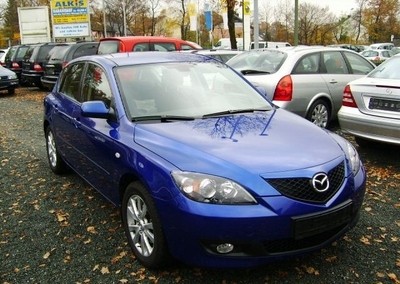 All Mazda 3 2006 hatchback photos
Compare Mazda 3 to other cars
Mazda 3 2006 hatchback average fuel consumption in combined cycle for petrol engine is from 6.7 to 9.7 litres per 100km, whereas for diesel engine - from 4.7 to 6 litres per 100km. The most fuel efficient Mazda 3 2006 hatchback petrol engine version is Mazda 3 1.4 S-VT, consuming 6.7 litres per 100km. While the most fuel efficient Mazda 3 2006 hatchback diesel - Mazda 3 1.6 CD for 100 kilometers consumes 4.7 liters of diesel.
According to user reviews, Mazda 3 real-world fuel consumption is on average about approximately for 14 percents higher as the manufacturer's claimed fuel economy (on average +10% for petrol engines and +17% for diesel engines). For a more detailed actual fuel economy of each model, select a specific Mazda 3 modification.
Mazda 3 2006 hatchback CO2 emissions for petrol engine are from 157 to 231 grams per kilometer, whereas for diesel engine - from 128 to 162 grams per kilometer. From Mazda 3 with petrol engines the lowest CO2 emissions has Mazda 3 1.4 S-VT which produces an average of 157 grams of CO2 per kilometer. In turn, from the Mazda 3 diesels least CO2 distributes Mazda 3 1.6 CiTD - 128 grams per km.
The best acceleration from 0 to 100 km/h - 6.1 seconds has Mazda 3 MPS version, conversely the tardiest one is Mazda 3 1.4 S-VT reaching this speed only in 14.9 seconds. The maximum top speed is 250 km/h for the 2.3 petrol 4-cylinder 265 hp version (Mazda 3 MPS).
Lenght of Mazda 3 is 442 cm, it is medium size car. For comparison - Mazda 3 is about 6 cm longer than Ford Focus hatchback, but 10 cm shorter than Toyota Avensis hatchback. Mazda 3 gross weight is from 1715 to 1945 kg (depending on modification), which is approximately the same as the average for cars of this age and class. Mazda 3 trunk space is 300 litres, by folding down all rear seats boot capacity can be increased to 1229 litres.
This Mazda is relatively cheap - it can be purchased (in Latvia) for around 2000 €. According to user reviews, average Mazda 3 repair costs are 60 € per year. Users calculated Mazda 3 2006 cost of ownership for this generation, got average 2400 € cost per year and 0.22 € cost per one kilometer. Fuel costs were estimated at around 54%, while repair and maintenance costs - around 26% from total. We have an excellent car cost calculator, calculate ownership costs of Mazda 3 for your situation and driving habits here! Below you will find more detailed information about Mazda 3 prices and costs.
In user reviews Mazda 3 received average grade 8.8 (from 10) - better than average rate for same years cars (8.0). All authors of reviews would recommend Mazda 3 to the friend.
Mazda 3 modifications
Mazda 3 safety
During safety testing Mazda 3 has obtained 4 stars from five, which means good safety level.
Adults (driver and passenger) safety of Mazda 3 is evaluated with four stars, children safety - with three stars, and for pedestrian protection Mazda 3 got two stars.
Mazda 3 prices
Mazda 3 2006 - 2009 hatchback price in Latvia is from 600 € to 3300 €.
Comparing to analogical vehicles Mazda 3 price is more below average - Mazda 3 is approximately for 29 percents cheaper then average hatchbacks of this age (compare hatchbacks 2006 - 2009 prices). Despite of relatively low price Mazda 3 quality is above average (see below), so this Mazda can be a good buy.
Mazda 3 total costs of ownership
How much really costs to own Mazda 3? Users calculated Mazda 3 2006 cost of ownership for this generation, got average 2400 € cost per year and 0.22 € cost per one kilometer.
Mazda 3 2006 total costs of ownership calculator
Calculate total cost of ownership of the Mazda 3, including purchase, insurance, maintenance, taxes and other costs based on how you use your vehicle.

Mazda 3 reliability and quality
According to yearly reports of vehicle inspection service Mazda 3 reliability is below average. In the roadworthiness tests in 2020 defects were detected in an average of 33.2 percent of Mazda 3 of this generation (on average 13 years old at the time of inspection). The average failure rate for a vehicles of the same age was 29.5%.
Mazda 3 2006 hatchback features (options)
Percentage of Mazda 3 with corresponding feature (option)
Conditioning
79% Climate control
66% Metallic paint
57% Adjustable steering wheel
54% Heated seats
44% Rain sensor
30% Cruise control
17% Xenon headlights
16%
Mazda 3 2006 hatchback photo images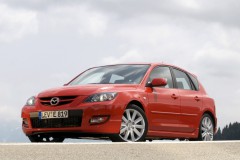 Front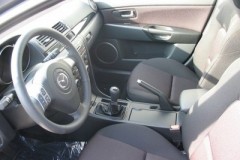 Drivers seat, interior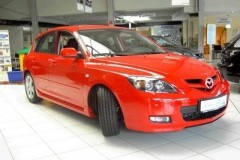 Front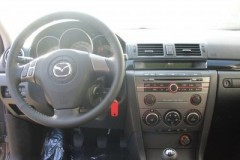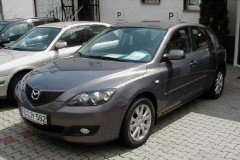 Front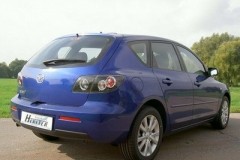 Back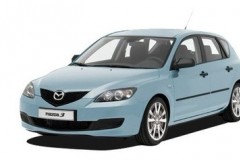 Front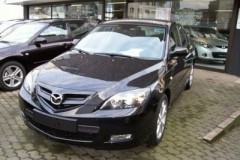 Front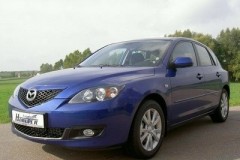 Front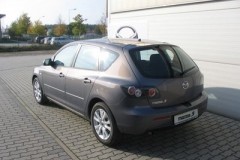 Back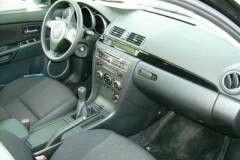 Drivers seat, interior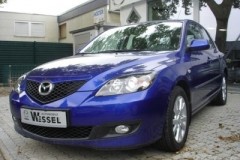 Front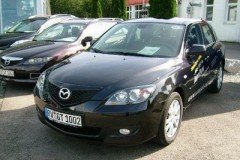 Front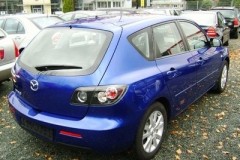 Back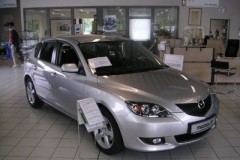 Front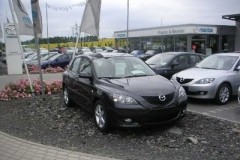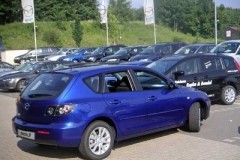 Side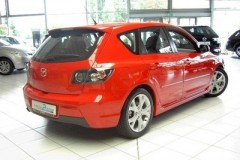 Back, side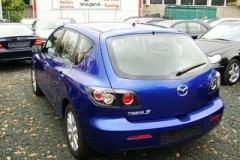 Back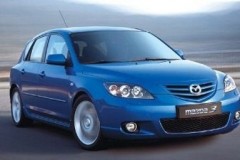 Front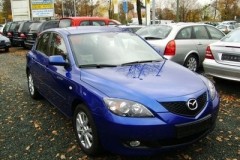 Front
Similar cars to Mazda 3 2006
Cars similar and most compared to Mazda 3 2006. Click on the image to view the car's specifications or on the "Compare..." link to compare cars.
Mazda 3 reviews
Total 11 Mazda 3 owner reviews
Mazda 3 2007 Hatchback Petrol 1.6 litres, Manual gearbox
Purchase year:
2019 (age of car 12 years)
Owned for:
23`000 kilometers (1 year)
Average fuel consumption:
8.4 litres per 100km (70% urban driving)
Total cost of repairs:
150 € (~ 150 € per year)
Total car rating:
8/10
Would recomend this car to the friend
Review - positive and negative sides
Pros: If in good condition, requires very little investment - the perfect budget option / first car. Good sound system. Spacious boot.
Cons: Strongly rusts without anti-rust treatment. The petrol version (without gas) consumes more fuel than you would like.
male, age 27
Mazda 3 2006 Hatchback Petrol 1.6 litres, Manual gearbox
Purchase year:
2014 (age of car 8 years)
Owned for:
10`000 kilometers (2 years)
Average fuel consumption:
7.0 litres per 100km (80% urban driving)
Total car rating:
10/10
Would recomend this car to the friend
Review - positive and negative sides
Pros: If it is not just beginning of corrosion and is treated with Crown ideal car
male, age 37
Mazda 3 2008 Hatchback Petrol 1.6 litres, Manual gearbox
Purchase year:
2015 (age of car 7 years)
Owned for:
6`000 kilometers (1 year)
Average fuel consumption:
10.0 litres per 100km (80% urban driving)
Total cost of repairs:
270 € (~ 270 € per year)
Total car rating:
8/10
Would recomend this car to the friend
Review - positive and negative sides
Pros: Normal Golf class used vehicle
Cons: As with any used car
male, age 50
Mazda 3 2008 Hatchback Petrol 1.7 litres, Manual gearbox
Purchase year:
2008 (age of car 0 years)
Owned for:
125`000 kilometers (6 years)
Total cost of repairs:
350 € (~ 58 € per year)
Total car rating:
9/10
Would recomend this car to the friend