Lexus SC 2001
This generation of
Lexus SC
has been produced from January, 2001 to January, 2010. We can provide information about 2 modifications of this generation. The car has been produced only with classical rear wheel drive.
This Lexus is available with two petrol engines with displacement 4.3 litres and power of from 286 to 304 horsepower.
The car is available with only with automatic gearbox.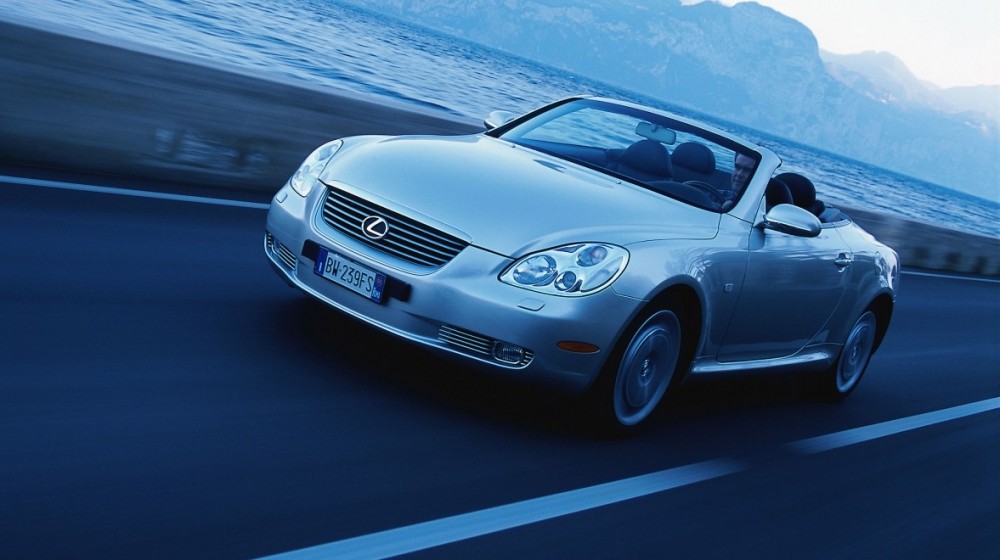 All Lexus SC 2001 photos
Compare Lexus SC to other cars
Lexus SC 2001 average fuel consumption in combined cycle is from 11.3 to 12 litres per 100km. The most economical Lexus SC version is Lexus SC 430 V8, consuming 11.3 litres of petrol per 100km.
Lexus SC 2001 CO2 emissions is approximately 287 grams per kilometer.
The best acceleration from 0 to 100 km/h - 6.1 seconds has Lexus SC 430 V8 version, Lexus SC 430 is slower and reaching this speed only in 6.4 seconds.
Lenght of Lexus SC is 452 cm, it is decent size car. For comparison - Lexus SC is about 2 cm longer than Opel Vectra, but 2 cm shorter than Toyota Corolla sedan. Lexus SC gross weight is from 2055 to 2110 kg (depending on modification), this car is about 17 percent heavier than the average for this age and class of vehicles.
This Lexus is quite costly - it can be purchased (in Latvia) for around 13 000 €. Below you will find more detailed information about Lexus SC prices and costs.
Lexus SC modifications
Lexus SC prices
Lexus SC 2001 - 2010 cabrio price in Latvia is from 7000 € to 19500 €.
Comparing to analogical vehicles Lexus SC price is very high - Lexus SC is more than two times more expensive then average cabrios of this age (compare cabrios 2001 - 2010 prices). Lexus SC high price can be explained by its quality above average (see below), therefore this Lexus could be reasonable purchase in long term perspective.
Lexus SC total costs of ownership
How much really costs to own Lexus SC? To calculate the Lexus SC total running costs, including the purchase, insurance, maintenance costs as well as taxes and other costs, click year of production
2001 2002 2003 2004 2005 2006 2007 2008 2009 2010
Lexus SC 2001 features (options)
Percentage of Lexus SC with corresponding feature (option)
Climate control
74% Metallic paint
71% Xenon headlights
64% Tire pressure control
62% Leather upholstery
60% Electrically adjustable seats
60% Electrically adjustable steering wheel
55% Heated seats
55% Conditioning
52% Cruise control
52% Rain sensor
40% Rear parking sensors
26% Adjustable steering wheel
26% Navigation
21% Bi-xenon lights
14% Front parking sensors
12%
Lexus SC 2001 photo images