Kia Pride Hatchback 1991
This generation of Kia Pride has been produced from January, 1991 to October, 2000. We can provide information about 5 modifications of this generation. The car has been produced only with front wheel drive.
This Kia is available with three petrol engines with displacement from 1.1 to 1.3 litres and power of from 52 to 73 horsepower.
The car is available with both manual (3 versions), as well as automatic (2 versions) gearbox.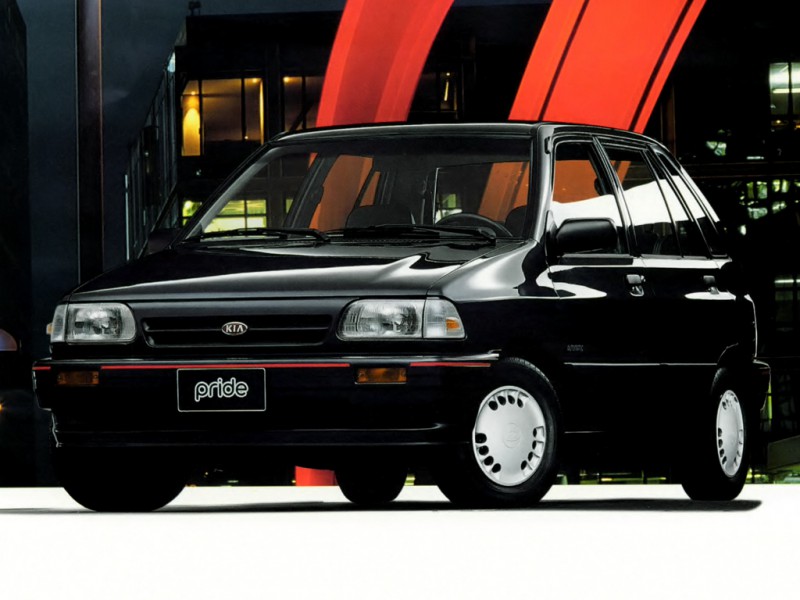 All Kia Pride hatchback photos
Compare Kia Pride to other cars
Kia Pride hatchback average fuel consumption in combined cycle is from 6.7 to 7.8 litres per 100km. The most economical Kia Pride version is Kia Pride 1.3, consuming 6.7 litres of petrol per 100km.
Kia Pride hatchback CO2 emissions are from 160 to 186 grams per kilometer. Kia Pride version with the lowest CO2 emissions is Kia Pride 1.3, which produces 160 grams of CO2 per one kilometer.
The best acceleration from 0 to 100 km/h - 13.6 seconds has Kia Pride 1.1 i version, conversely the tardiest one is Kia Pride 1.3 reaching this speed only in 15.9 seconds.
Lenght of Kia Pride is 356 cm, it is very small car. Kia Pride gross weight is from 1270 to 1310 kg (depending on modification), this car is about 30 percent heavier than the average for this age and class of vehicles.
Below you will find more detailed information about Kia Pride prices and costs.
Kia Pride modifications
Modification
Engine
Power
Fuel cons.
Gearbox
Kia Pride 1.1 i

Jan 1991 — Dec 1995

1.1 Petrol
52 HP
7.3 l/100km
Manual (4 gears)
Kia Pride 1.3i

Jan 1991 — Dec 1995

1.3 Petrol
73 HP
7.5 l/100km
Manual (5 gears)
Kia Pride 1.3i

Jan 1991 — Dec 1995

1.3 Petrol
73 HP
7.5 l/100km
Automatic (4 gears)
Kia Pride

Jan 1995 — Oct 2000

1.3 Petrol
64 HP
6.7 l/100km
Manual (5 gears)
Kia Pride

Mar 1996 — Oct 2000

1.3 Petrol
64 HP
7.8 l/100km
Automatic
Kia Pride total costs of ownership
How much really costs to own Kia Pride? To calculate the Kia Pride total running costs, including the purchase, insurance, maintenance costs as well as taxes and other costs, click year of production
1991 1992 1993 1994 1995 1996 1997 1998 1999 2000
Kia Pride quality
production year from 1991 to 2000
According to yearly reports of German vehicle inspection service (TÜV) Kia Pride quality is extremely low.
During regular inspections failures are found for approximately 15 percents of Kia Pride.
Year of inspection
Age of car
Failures found %
/ average for same age cars
Place in rating
Kia Pride 2000
2004
4 years
13.1% / 5.60%
111. from 113

Kia Pride 1999
2004
5 years
18.9% / 10.90%
97. from 103

Kia Pride 1998
2004
6 years
18.9% / 10.90%
97. from 103
Kia Pride hatchback photo images