Jaguar X-Type
Jaguar X-Type technical data
Please choose Jaguar X-Type generation to gain full info - reviews, technical specifications, prices, quality and safety data, options and photos
Jaguar X-Type reviews
Total 4 Jaguar X-Type owner reviews
Jaguar X-Type 2007 Sedan Diesel 2.2 litres, Manual gearbox
Purchase year:
2020 (age of car 13 years)
Owned for:
10`000 kilometers (1 year)
Average fuel consumption:
8.0 litres per 100km (60% urban driving)
Total car rating:
7/10
Would recomend this car to the friend
Review - positive and negative sides
Pros: Despite all the headaches this car gave me, I still miss the X Type the most of all the cars I've had. Visually a very beautiful car (at least in my eyes, not everyone likes Jaguars), I looked back every time I walked away :) Interior leather, spacious (I'm 1.90m, no problem), luxurious. The 2.2 diesel is the perfect mix between power and economy. Budget Jaguar - parts can be expensive, but not as crazy as other Jaguars as the base is from a Ford Mondeo. It was a pleasure to drive, better than the 3-series, C-Class and A4 of the time. On the road, everyone respects you, lets you go. If you want a car you can look back on without forking out a fortune, this is the one.
Cons: There were always small problems. But that's understandable, because Jaguars are not the most reliable cars and I bought the car for a very cheap price in Lithuania. There will be a lot of things to fix. The oil leaked. The trunk could have been bigger. There are not many mechanics and shrots who would take on a Jag, so I recommend buying only if you know something about fixing Ford/Jaguar yourself. The engine blew at 260,000km, I decided to sell because the repairs were more expensive than the value of the car. Otherwise it would have run for many more years.
male, age 22
Jaguar X-Type 2001 Sedan Diesel 2.5 litres, Manual gearbox
Purchase year:
2015 (age of car 14 years)
Owned for:
10`000 kilometers (0 years)
Average fuel consumption:
10.5 litres per 100km (50% urban driving)
Total cost of repairs:
510 €
Total car rating:
9/10
Would NOT recomend this car to the friend
Review - positive and negative sides
Pros: Better than 5 series, bmw e39, four-wheel drive, and convenient steerability. Security. Elders from other road users.
Cons: It's hard to find and expensive parts, difficult to make repairs
Jaguar X-Type 2002 Sedan Petrol 3.0 litres, Automatic gearbox
Purchase year:
2016 (age of car 14 years)
Owned for:
60`000 kilometers (2 years)
Average fuel consumption:
11.0 litres per 100km (40% urban driving)
Total cost of repairs:
740 € (~ 370 € per year)
Total car rating:
9/10
Would recomend this car to the friend
male, age 41
Jaguar X-Type 2002 Sedan Petrol 2.5 litres, Automatic gearbox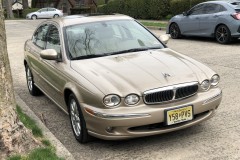 | | | | |
| --- | --- | --- | --- |
| Purchase year: | 2022 (age of car 20 years) | Owned for: | 3`000 kilometers (0 years) |
Total car rating:
8/10
Would recomend this car to the friend
Review - positive and negative sides
Pros: Love it
Cons: Not that much power after 70 miles per hour
male, age 57