Nothing
read all Ford Tourneo reviews
This generation of
Ford Tourneo
is being produced from January, 2014. We can provide information about 3 modifications of this generation. The car is available only with front wheel drive.
This Ford is available with two petrol engines with displacement from 1.0 to 1.6 litres and power of from 100 to 150 horsepower un one diesel engine with displacement 1.6 litres and power of 95 HP.
The car is available with both manual (2 versions), as well as automatic (1 version) gearbox.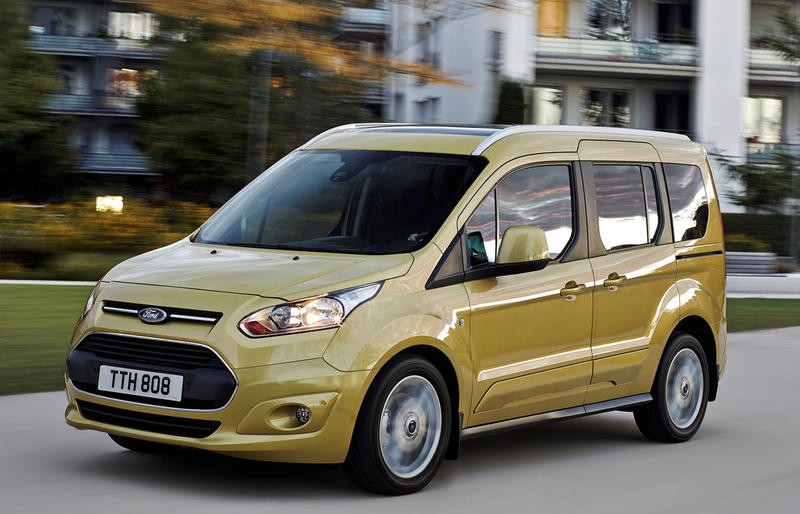 All Ford Tourneo minivan photos
Compare Ford Tourneo to other cars
Ford Tourneo minivan average fuel consumption in combined cycle for petrol engine is from 5.6 to 8 litres per 100km, but for diesel engine - approximately 4.6 litres per 100km. The most economical Ford Tourneo petrol engine version is Ford Tourneo Connect 1.0 EcoBoost, consuming 5.6 litres per 100km.
Ford Tourneo minivan CO2 emissions for petrol engine are from 129 to 184 grams per kilometer, but for diesel engine - approximately 120 grams per kilometer. From Ford Tourneo with petrol engines the lowest CO2 emissions has Ford Tourneo Connect 1.0 EcoBoost which produces an average of 129 grams of CO2 per kilometer.
The best acceleration from 0 to 100 km/h - 10.9 seconds has Ford Tourneo Connect 1.6 EcoBoost version, conversely the tardiest one is Ford Tourneo Connect 1.6 TDCi reaching this speed only in 14.7 seconds.
Lenght of Ford Tourneo is 442 cm, it is medium size car. Ford Tourneo gross weight is from 2010 to 2045 kg (depending on modification), which is approximately the same as the average for cars of this age and class.
This Ford is quite costly - it can be purchased (in Latvia) for around 20 000 €. Users calculated Ford Tourneo cost of ownership for this generation, got average 3600 € cost per year and 0.25 € cost per one kilometer. Fuel costs were estimated at around 54%, while repair and maintenance costs - around 21% from total. We have an excellent car cost calculator, calculate ownership costs of Ford Tourneo for your situation and driving habits here! Below you will find more detailed information about Ford Tourneo prices and costs.
In user reviews Ford Tourneo received average grade 1.0 (from 10) which is relatively low, considering average rate 8.0 for similar aged cars.
Ford Tourneo modifications
Ford Tourneo prices
Ford Tourneo 2014 minivan price in Latvia is from 10000 € to 35000 €.
Comparing to analogical vehicles Ford Tourneo price is very high - Ford Tourneo is approximately for 78 percents more expensive then average minivans of this age (compare minivans 2014 - 2023 prices). Ford Tourneo high price can be explained by its quality above average (see below), therefore this Ford could be reasonable purchase in long term perspective.
Ford Tourneo total costs of ownership
How much really costs to own Ford Tourneo? Users calculated Ford Tourneo cost of ownership for this generation, got average 3600 € cost per year and 0.25 € cost per one kilometer.
To calculate the Ford Tourneo total running costs, including the purchase, insurance, maintenance costs as well as taxes and other costs, click year of production
2014 2015 2016 2017 2018 2019 2020 2021 2022
Ford Tourneo minivan features (options)
Percentage of Ford Tourneo with corresponding feature (option)
Conditioning
89% Adjustable steering wheel
70% Tire pressure control
64% Rain sensor
64% Rear parking sensors
63% Cruise control
62% Metallic paint
61% Front parking sensors
55% Heated seats
49% Climate control
36% Navigation
20% Roof bars (railings)
17% Auxiliary heating
16% Rear-view camera
15%
Ford Tourneo minivan photo images
Ford Tourneo reviews
At the moment we dont have reviews about Ford Tourneo manufactured from 2014.
Find below reviews about other generations of Ford Tourneo.
Ford Tourneo 2014 Diesel 1.9 litres, Manual gearbox
Purchase year:
2014 (age of car 0 years)
Owned for:
100`000 kilometers (2 years)
Average fuel consumption:
7.0 litres per 100km (30% urban driving)
Total cost of repairs:
700 € (~ 350 € per year)
Total car rating:
1/10
Would NOT recomend this car to the friend
Review - positive and negative sides
Nothing
The car was bought brand new. Devastatingly bad car - assembled in Turkey, maybe it's to blame. Rusts for days, the suspension does not hold, the noisy, very sad interior trim - wears out quickly. Pretty awkward. There was Webasto heating - the first year passed, after a huge cloud of smoke and an abnormal smell appeared under the car, the repair costs amounted to several hundred euros. I do not recommend to anyone - it is better to choose Kangoo.
male, age 20