This generation of Fiat Ducato is being produced from January, 2006. We can provide information about 15 modifications of this generation. The car is available only with front wheel drive.
This Fiat is available with three diesel engines with displacement from 2.2 to 3.0 litres and power of from 100 to 157 horsepower.
The car is available with only with manual gearbox.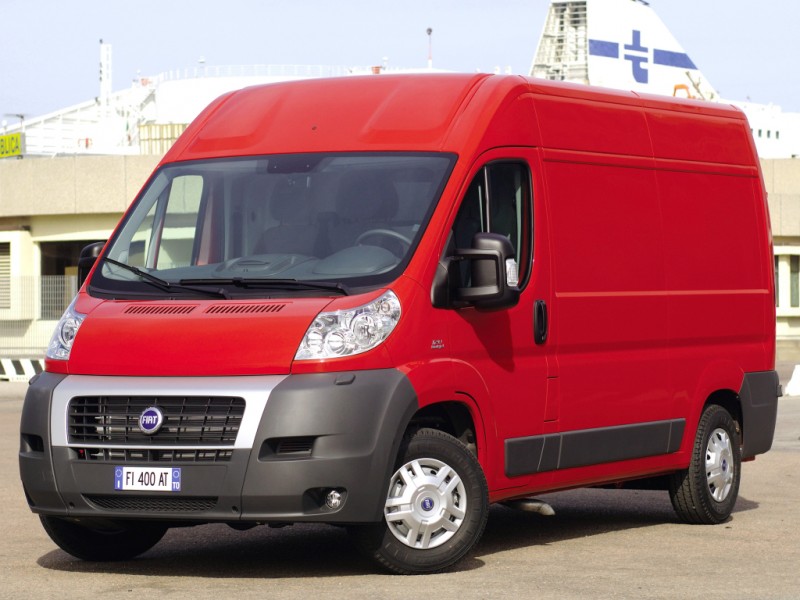 All Fiat Ducato minivan photos
Compare Fiat Ducato to other cars
Lenght of Fiat Ducato is 565 cm, it is large car. For comparison - Fiat Ducato is about 79 cm longer than Volkswagen Sharan.
This Fiat is very cheap for its class - it can be purchased (in Latvia) for around 11 000 $. Users calculated Fiat Ducato cost of ownership for this generation, got average 3400 € cost per year and 0.27 € cost per one kilometer. Fuel costs were estimated at around 60%, while repair and maintenance costs - around 21% from total. We have an excellent car cost calculator, calculate ownership costs of Fiat Ducato for your situation and driving habits here! Below you will find more detailed information about Fiat Ducato prices and costs.
In user reviews Fiat Ducato received average grade 10.0 (from 10), which is good rating, on average cars of this age are rated only 8.1. All authors of reviews would recommend Fiat Ducato to the friend.
Fiat Ducato modifications
Fiat Ducato prices
Fiat Ducato 2006 minivan price in Latvia is from 900 $ to 40500 $.
Comparing to analogical vehicles Fiat Ducato price is very low - Fiat Ducato is almost two times cheaper then average minivans of this age (compare minivans 2006 - 2022 prices). Despite of relatively low price Fiat Ducato quality is above average (see below), so this Fiat can be a good buy.
| Year | Lowest | Average | Highest | Availability |
| --- | --- | --- | --- | --- |
| Fiat Ducato 2021 price | 34 500 $ | 37 500 $ | 40 500 $ | |
| Fiat Ducato 2019 price | 18 500 $ | 22 500 $ | 26 500 $ | |
| Fiat Ducato 2017 price | 12 000 $ | 12 500 $ | 13 500 $ | |
| Fiat Ducato 2016 price | 10 000 $ | 13 000 $ | 17 000 $ | |
| Fiat Ducato 2015 price | 18 000 $ | 18 500 $ | 19 000 $ | |
| Fiat Ducato 2014 price | 8000 $ | 11 000 $ | 14 000 $ | |
| Fiat Ducato 2013 price | 7000 $ | 7500 $ | 8000 $ | |
| Fiat Ducato 2012 price | 6500 $ | 9500 $ | 12 000 $ | |
| Fiat Ducato 2011 price | 4900 $ | 6000 $ | 6500 $ | |
| Fiat Ducato 2010 price | 3900 $ | 5500 $ | 8000 $ | |
| Fiat Ducato 2009 price | 3600 $ | 4400 $ | 5500 $ | |
| Fiat Ducato 2008 price | 3900 $ | 5500 $ | 6500 $ | |
| Fiat Ducato 2007 price | 1900 $ | 2800 $ | 4200 $ | |
| Fiat Ducato 2006 price | 900 $ | 1700 $ | 2700 $ | |
Fiat Ducato total costs of ownership
How much really costs to own Fiat Ducato? Users calculated Fiat Ducato cost of ownership for this generation, got average 3400 € cost per year and 0.27 € cost per one kilometer.
To calculate the Fiat Ducato total running costs, including the purchase, insurance, maintenance costs as well as taxes and other costs, click year of production
2006 2007 2008 2009 2010 2011 2012 2013 2014 2015 2016 2017 2018 2019 2020 2021
Fiat Ducato minivan features (options)
Percentage of Fiat Ducato with corresponding feature (option)
Conditioning
70% Adjustable steering wheel
55% Cruise control
30% Climate control
21% Auxiliary heating
18% Rear parking sensors
18% Metallic paint
16% Rear-view camera
11%
Fiat Ducato minivan photo images
Fiat Ducato reviews