Cheap cost, 5 years free maintenance, price
read all Dacia Sandero reviews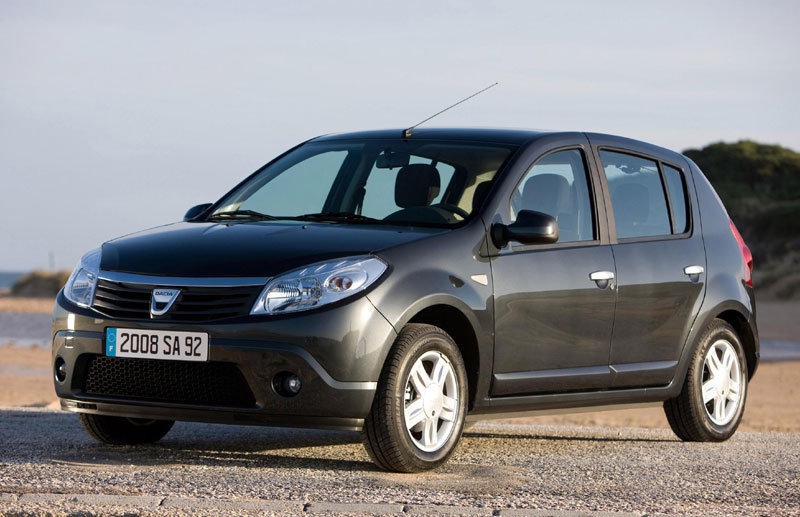 All Dacia Sandero hatchback photos
Compare Dacia Sandero to other cars
This generation of Dacia Sandero has been produced from January, 2008 to January, 2012. We can provide information about 2 modifications of this generation. The car has been produced only with front wheel drive.
This Dacia is available with one petrol engine with displacement 1.6 litres and power of 87 HP un one diesel engine with displacement 1.5 litres and power of 70 HP.
The car is available with only with manual gearbox.
Dacia Sandero average fuel consumption in combined cycle for petrol engine is approximately 7.2 litres per 100km, but for diesel engine - approximately 4.5 litres per 100km.
Dacia Sandero CO2 emissions is approximately 120 grams per kilometer.
The best acceleration from 0 to 100 km/h - 11.5 seconds has Dacia Sandero 1.6 version, conversely the tardiest one is Dacia Sandero 1.5 dCi reaching this speed only in 15 seconds.
Lenght of Dacia Sandero is 402 cm, it is small car. For comparison - Dacia Sandero is about 5 cm longer than Volkswagen Polo hatchback, but 15 cm shorter than Ford Focus hatchback. Dacia Sandero gross weight is 1575 kg, this car is about 10 percent heavier than the average for this age and class of vehicles.
This Dacia is relatively cheap - it can be purchased (in Latvia) for around 3100 $. Below you will find more detailed information about Dacia Sandero prices and costs.
In user reviews Dacia Sandero received average grade 10.0 (from 10), which is good rating, on average cars of this age are rated only 8.1. All authors of reviews would recommend Dacia Sandero to the friend.
Dacia Sandero modifications
Dacia Sandero safety
During safety testing Dacia Sandero has obtained 3 stars from five, which means average safety level.
Adults (driver and passenger) safety of Dacia Sandero is evaluated with three stars, children safety - with four stars, and for pedestrian protection Dacia Sandero got one star.
Dacia Sandero prices
Dacia Sandero hatchback price in Latvia is from 1200 $ to 4000 $.
Comparing to analogical vehicles Dacia Sandero price is more below average - Dacia Sandero is approximately for 25 percents cheaper then average hatchbacks of this age (compare hatchbacks 2008 - 2012 prices). The reason of Dacia Sandero low price could be its poor quality (see below) so we recommend particularly examine the car before purchase and do not choose it only by price.
| Year | Lowest price ($) | Average price ($) | Highest price ($) | Availability |
| --- | --- | --- | --- | --- |
| 2011 | 2400 | 3100 | 4000 | |
| 2010 | 3600 | 3900 | 4000 | |
| 2009 | 1200 | 2100 | 2700 | |
| 2008 | 2800 | 3100 | 3400 | |
Dacia Sandero total costs of ownership
To calculate the Dacia Sandero total running costs, including the purchase, insurance, maintenance costs as well as taxes and other costs, click year of production
2008 2009 2010 2011 2012
Dacia Sandero mileage
To estimate approximate Dacia Sandero mileage, please choose production year
2008 2009 2010 2011 2012
The VIN (Vehicle Identification Number) is a combination of seventeen letters and numbers that identifies a particular vehicle. The VIN number can be found on the car registration certificate as well as on the car body.
Dacia Sandero quality
production year from 2008 to 2012
According to yearly reports of German vehicle inspection service (TÜV) Dacia Sandero quality is very low.
During regular inspections failures are found for approximately 15.7 percents of Dacia Sandero.
Learn more about used car reliability: Most reliable used over 15 years old cars,
Most reliable over 15 years old hatchbacks
Year of inspection
Age of car
Failures found %
/ average for same age cars
Place in rating
Dacia Sandero produced in 2012
2017
5 years
18.1% / 10.10%
121. from 124

2016
4 years
9.1% / 7.80%
96. from 132

2015
3 years
11.2% / 8.40%
109. from 129

Dacia Sandero produced in 2011
2017
6 years
18.1% / 10.10%
121. from 124

2016
5 years
22.8% / 13.20%
125. from 127

2015
4 years
11.2% / 8.40%
109. from 129

Dacia Sandero produced in 2010
2017
7 years
20.3% / 15.20%
103. from 117

2016
6 years
22.8% / 13.20%
125. from 127

2015
5 years
20.0% / 13.90%
113. from 125

Dacia Sandero produced in 2009
2017
8 years
20.3% / 15.20%
103. from 117

2016
7 years
26.0% / 19.10%
105. from 116

2015
6 years
20.0% / 13.90%
113. from 125

Dacia Sandero produced in 2008
2016
8 years
26.0% / 19.10%
105. from 116
Dacia Sandero hatchback features (options)
Percentage of Dacia Sandero with corresponding feature (option)
Adjustable steering wheel
68% Metallic paint
57% Conditioning
45% Climate control
11% Roof bars (railings)
11%
Dacia Sandero hatchback photo images
Dacia Sandero reviews