Ford Fiesta 2002 Hatchback
Good handling. Sturdy suspension. After 240,000 km, still have the original lever bushings, although a lot of driving on dirt roads. Original clutch still on the robot-gearbox. Good visibility. Rust-resistant bodywork throughout.
read all Ford Fiesta reviews
This generation of Ford Fiesta has been produced from June, 2002 to October, 2005. We can provide information about 9 modifications of this generation. The car has been produced only with front wheel drive.
In 2002, the fifth generation Fiesta made its debut at the Frankfurt Motor Show. In developing it, Ford engineers focused primarily on spaciousness, style, safety and handling. Compared to the previous generation, the Fiesta V was larger, heavier and has a larger wheelbase. Thanks to the increased size, the designers have managed to make the rear seats more comfortable and the car, as a whole, more stable.
The interior was quite cozy. The seats are upholstered in fabric and are quite comfortable. The rear part of the front seat cushion can be raised and lowered with a special plastic lever. The backrest inclination is adjusted by a handy wheel, the end of which has a rubber hoop to prevent slipping of the fingers. The rear seat can be folded down either completely or in parts. In this case, the luggage compartment is increased by more than three times.
Not only the gauges are illuminated, but also all the buttons down to the side window lift buttons. The comfortable steering wheel in genuine leather has responsive and informative power steering.

The body is a sturdy box with rigid all-steel sides and an almost vertical rear wall, increasing luggage space compared to the old Fiesta, which had a sloping rear end.
The doors have extra side-impact protection and their rigid window frames do not restrict visibility. The fifth door can be opened with a special button on the left-hand side of the instrument panel. All windows are unobtrusively tinted, visible only from inside. Only the front side windows are electrically operated.
The creators paid special attention to safety of Fiesta's passengers. The car is equipped with two airbags, four anti-shock curtains. Safety is augmented with anti-lock brakes, which perform particularly well on wet and slippery road surfaces.

Fiesta V comes with a 1.3-litre to 1.6-litre petrol engine (70PS to 100PS) and a 1.4-litre turbo-diesel engine (68PS). A version with a 2.0-liter petrol engine and 150 hp also appeared later.

This Ford is available with four petrol engines with displacement from 1.2 to 1.6 litres and power of from 70 to 100 horsepower un two diesel engines with displacement from 1.4 to 1.6 litres and power of from 68 to 90 horsepower.
The car is available with both manual (6 versions), as well as automatic (3 versions) gearbox.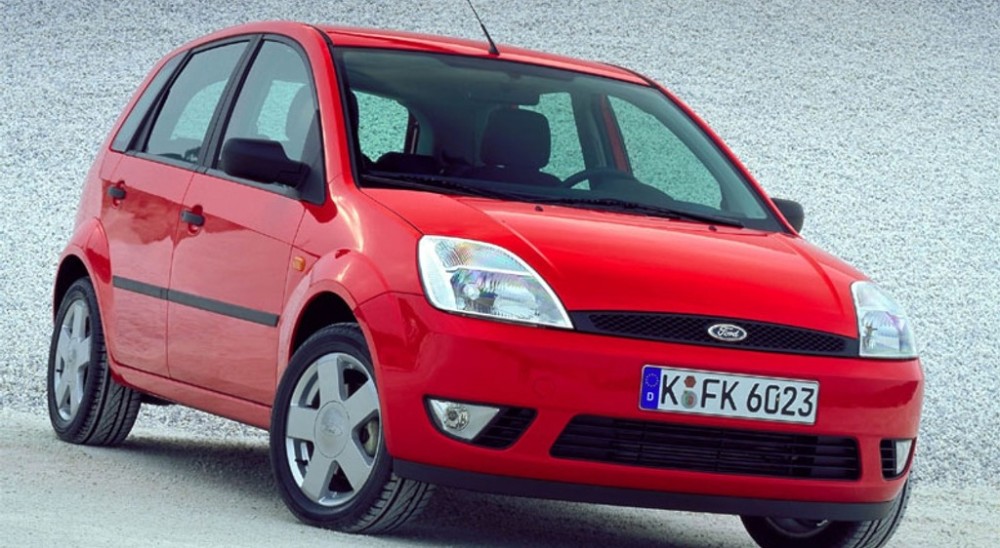 All Ford Fiesta 2002 hatchback photos
Compare Ford Fiesta to other cars
Ford Fiesta 2002 hatchback average fuel consumption in combined cycle for petrol engine is from 6.2 to 7.5 litres per 100km, whereas for diesel engine - from 4.3 to 4.5 litres per 100km. The most fuel efficient Ford Fiesta 2002 hatchback petrol engine version is Ford Fiesta 1.3 Duratec, consuming 6.2 litres per 100km. While the most fuel efficient Ford Fiesta 2002 hatchback diesel - Ford Fiesta 1.4 TDCi for 100 kilometers consumes 4.3 liters of diesel.
According to user reviews, Ford Fiesta real-world fuel consumption is on average about approximately for 13 percents higher as the manufacturer's claimed fuel economy (on average +10% for petrol engines and +15% for diesel engines). For a more detailed actual fuel economy of each model, select a specific Ford Fiesta modification.
Ford Fiesta 2002 hatchback CO2 emissions for petrol engine are from 147 to 179 grams per kilometer, whereas for diesel engine - from 114 to 119 grams per kilometer. From Ford Fiesta with petrol engines the lowest CO2 emissions has Ford Fiesta 1.3 Duratec which produces an average of 147 grams of CO2 per kilometer. In turn, from the Ford Fiesta diesels least CO2 distributes Ford Fiesta 1.4 TDCi - 114 grams per km.
The best acceleration from 0 to 100 km/h - 10.6 seconds has Ford Fiesta 1.6 Duratec version, conversely the tardiest one is Ford Fiesta 1.3 Duratec reaching this speed only in 15.8 seconds. The maximum top speed is 185 km/h for the 1.6 petrol 4-cylinder 100 hp version (Ford Fiesta 1.6 Duratec).
Lenght of Ford Fiesta is 392 cm, it is small car. For comparison - Ford Fiesta is about 2 cm longer than Volkswagen Polo hatchback, but 19 cm shorter than Opel Astra hatchback. Ford Fiesta gross weight is from 1520 to 1560 kg (depending on modification), which is approximately the same as the average for cars of this age and class. Ford Fiesta trunk space is 284 litres, by folding down all rear seats boot capacity can be increased to 947 litres.
This Ford is in average price group - it can be purchased (in Latvia) for around 1300 €. According to user reviews, average Ford Fiesta repair costs are 100 € per year. Users calculated Ford Fiesta 2002 cost of ownership for this generation, got average 1900 € cost per year and 0.22 € cost per one kilometer. Fuel costs were estimated at around 49%, while repair and maintenance costs - around 29% from total. We have an excellent car cost calculator, calculate ownership costs of Ford Fiesta for your situation and driving habits here! Below you will find more detailed information about Ford Fiesta prices and costs.
In user reviews Ford Fiesta received average grade 7.5 (from 10) it corresponds to average rate for cars of this age. Ratings are quite controversial, both positive and not so good, read more in the reviews below. 75% of reviewers would recommend this car to the friend.
Ford Fiesta modifications
Ford Fiesta safety
During safety testing Ford Fiesta has obtained 4 stars from five, which means good safety level.
Adults (driver and passenger) safety of Ford Fiesta is evaluated with four stars, and for pedestrian protection Ford Fiesta got two stars.
Ford Fiesta prices
Ford Fiesta 2002 - 2005 hatchback price in Latvia is from 600 € to 2200 €.
Comparing to analogical vehicles Ford Fiesta price is below average - Ford Fiesta is approximately for 20 percents cheaper then average hatchbacks of this age (compare hatchbacks 2002 - 2005 prices). Despite of relatively low price Ford Fiesta quality is above average (see below), so this Ford can be a good buy.
Ford Fiesta total costs of ownership
How much really costs to own Ford Fiesta? Users calculated Ford Fiesta 2002 cost of ownership for this generation, got average 1900 € cost per year and 0.22 € cost per one kilometer.
Ford Fiesta 2002 total costs of ownership calculator
Calculate total cost of ownership of the Ford Fiesta, including purchase, insurance, maintenance, taxes and other costs based on how you use your vehicle.

Ford Fiesta reliability and quality
According to yearly reports of vehicle inspection service Ford Fiesta reliability is good. In the roadworthiness tests in 2016 defects were detected in an average of only 26.8 percent of Ford Fiesta of this generation (on average 13 years old at the time of inspection). The average failure rate for a vehicles of the same age was 31.4%.
Ford Fiesta 2002 hatchback features (options)
Percentage of Ford Fiesta with corresponding feature (option)
Conditioning
61% Metallic paint
56% Adjustable steering wheel
52% Heated seats
14%
Ford Fiesta 2002 hatchback photo images
Similar cars to Ford Fiesta 2002
Cars similar and most compared to Ford Fiesta 2002. Click on the image to view the car's specifications or on the "Compare..." link to compare cars.
Ford Fiesta reviews
Total 9 Ford Fiesta owner reviews
Ford Fiesta 2004 Hatchback Petrol 1.4 litres, Manual gearbox
Purchase year:
2012 (age of car 8 years)
Owned for:
60`000 kilometers (4 years)
Average fuel consumption:
6.0 litres per 100km (60% urban driving)
Total cost of repairs:
600 € (~ 150 € per year)
Total car rating:
10/10
Would recomend this car to the friend
Review - positive and negative sides
Pros: Very convenient, cheap cost, feminine, economic
Cons: For city more would be suitable with automatic gearbox
female
Ford Fiesta 2004 Hatchback Petrol 1.4 litres, Manual gearbox
Purchase year:
2012 (age of car 8 years)
Owned for:
60`000 kilometers (5 years)
Average fuel consumption:
6.0 litres per 100km (70% urban driving)
Total cost of repairs:
150 € (~ 30 € per year)
Total car rating:
8/10
Would recomend this car to the friend
female, age 54
Ford Fiesta 2005 Hatchback Petrol 1.3 litres, Manual gearbox
Purchase year:
2008 (age of car 3 years)
Owned for:
120`000 kilometers (10 years)
Average fuel consumption:
7.0 litres per 100km (60% urban driving)
Total cost of repairs:
1340 € (~ 134 € per year)
Total car rating:
6/10
Would recomend this car to the friend
male, age 46