Good car, if not overridden
read all Land Rover Discovery reviews
This generation of
Land Rover Discovery 2
has been produced from January, 1998 to July, 2002. We can provide information about 4 modifications of this generation. The car has been produced only with four wheel (4x4) drive.
In 1989, Land Rover's new model, Discovery was premiered. It was intended to take the place between the utilitarian Defender and the luxury Range Rover. A three-door version was introduced first, followed a year later by a five-door version. The wheelbase for both variants is the same - 2,540mm. Visual enhancements to the Discovery II were made in 2002, and the face lift version is easily recognizable by its distinctive headlights. The body is mounted on a solid frame. Spring suspension for front and rear wheels is made according to the traditional scheme for SUVs. This has a continuous axle beam mounted on wishbones.

Initially Discovery was powered by a 3.5 litre V8 petrol engine. First year models used two carburettors in the fuel system. In versions with EFI injector this 3.5 litre engine was offered until 1993. And in late 1989, the 3.9-liter engine with 182 hp has been created on its base. This power unit gives the excellent dynamics for an SUV and allows to reach hundred in 11 seconds. It has a considerable resource, but also high fuel consumption, at active driving in city conditions it is 20-25 liters per 100 km.

There was one high-revving 2.0-liter 136-horsepower engine.
It has been available since 1993. If vehicle has a MPI (Multi-point injection) badge on the tailgate, it meant that the 2.0 litre engine was fitted. Turbo-diesel engines were also available for the model.

In 1990, Discovery received 2.5-liter 107 hp engine with turbocharger and intercooler. In general, this is a reliable and economical unit (during active drive the maximum fuel consumption is 13-14 liters). Since 1995, this engine was offered with a new fuel injection system EDC (Electronic Diesel Control), which increased power up to 113 hp.

Automatic and manual transmissions are available for Discovery. Firstly a manual transmission with factory index LT77 was used. In 1994, it was replaced by a new manual (index R380), which had also synchronized rear gear. One of the main advantages of Discovery is a permanent four-wheel drive (full-time 4WD). Lockable central differential is used to distribute torque on the axles.

Discovery used disc brakes on all wheels, which for off-roaders in late 80's was a fairly rare phenomenon. The effectiveness of the braking system is excellent and provides a short braking distance even when towing a heavy trailer.

A minor update was carried out for 1991 which included the addition of rubber mouldings, box between the seats and luggage netting in the boot. In addition, a new five-speed gearbox was fitted. In 1994, the model has another restyling. External differences were insignificant, but the interior received a new dashboard and new transmission.

Discovery was available in several versions. The basic one before the restyling in 1994 included an electric package (except three-door versions), and the most expensive one had almost a full list of all sorts of "frills", worthy of a high-class passenger car. After the restyling the air conditioning became a standard equipment. A luxury modification with index ES had leather interior, power seats and sunroof (there could be two of them), expensive audio system with a CD player.

In 1996, all modifications for North America began to equipped with 4.0 liter gasoline engine, previously installed on the Range Rover.

Discovery has gained a great popularity among people with an active lifestyle. A significant part of Discovery's fame came from the Camel Trophy, where the vehicle was hailed as the best off-roader in the world. For the Camel Trophy competition a special version of the vehicle was produced, called Land Rover Discovery for Camel Trophy Special. It was different, except the bright yellow body colour, and the presence of special off-road devices and accessories: for example, snorkel air intake, a powerful boot, winch, additional lighting and much more.

Discovery has many positive qualities e.g. good handling, ergonomics, comfort and a high level of safety.
This Land Rover is available with one petrol engine with displacement 3.9 litres and power of 185 HP un one diesel engine with displacement 2.5 litres and power of 137 HP.
The car is available with both manual (2 versions), as well as automatic (2 versions) gearbox.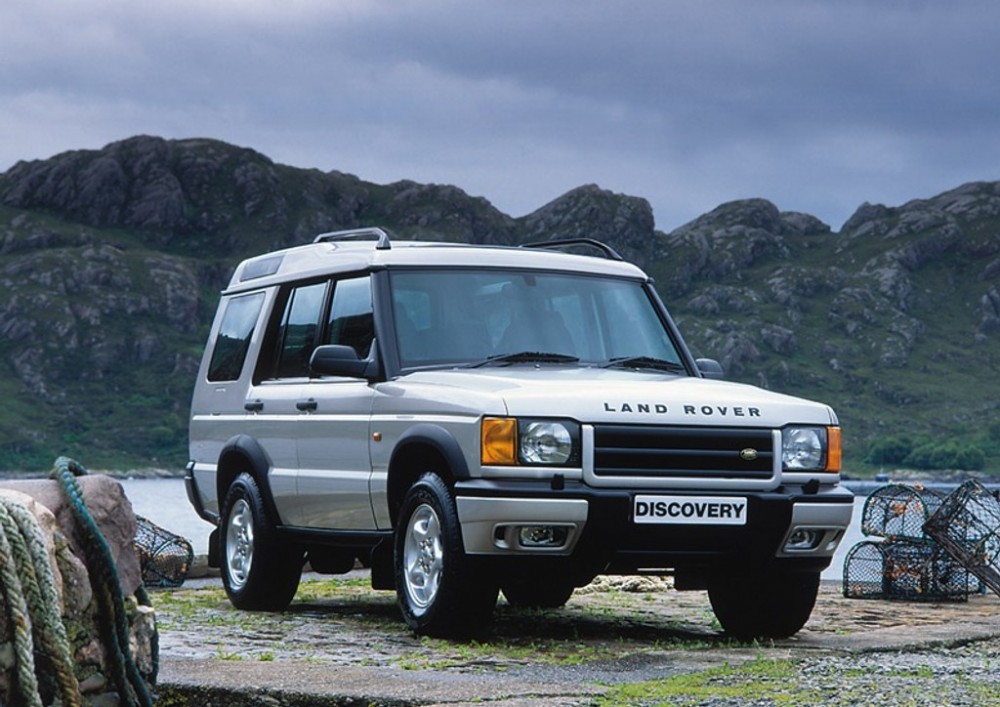 All Land Rover Discovery 1998 2 photos
Compare Land Rover Discovery to other cars
Land Rover Discovery 1998 2 average fuel consumption in combined cycle for petrol engine is from 16.6 to 16.7 litres per 100km, whereas for diesel engine - from 9.4 to 10.3 litres per 100km. The most economical Land Rover Discovery petrol engine version is Land Rover Discovery 4.0i V8, consuming 16.6 litres per 100km. While the most economical Land Rover Discovery diesel - Land Rover Discovery Td5 for 100 kilometers consumes 9.4 liters of diesel.
According to user reviews, Land Rover Discovery real-world fuel consumption is on average about approximately for 10 percents higher as the manufacturer's claimed fuel economy. For a more detailed actual fuel economy of each model, select a specific Land Rover Discovery modification.
The best acceleration from 0 to 100 km/h - 11.7 seconds has Land Rover Discovery 4.0i V8 version, conversely the tardiest one is Land Rover Discovery Td5 reaching this speed only in 17.1 seconds.
Lenght of Land Rover Discovery is 470 cm, it is decent size car. For comparison - Land Rover Discovery is about 3 cm longer than BMW X5, but 1 cm shorter than Mitsubishi Pajero. Land Rover Discovery gross weight is 2750 kg, which is approximately the same as the average for cars of this age and class.
This Land Rover is in average price group - it can be purchased (in Latvia) for around 3900 €. According to user reviews, average Land Rover Discovery repair costs are 120 € per year. Users calculated Land Rover Discovery cost of ownership for this generation, got average 2700 € cost per year and 0.24 € cost per one kilometer. Fuel costs were estimated at around 58%, while repair and maintenance costs - around 25% from total. We have an excellent car cost calculator, calculate ownership costs of Land Rover Discovery for your situation and driving habits here! Below you will find more detailed information about Land Rover Discovery prices and costs.
In user reviews Land Rover Discovery received average grade 8.0 (from 10) it corresponds to average rate for cars of this age. All authors of reviews would recommend Land Rover Discovery to the friend.
Land Rover Discovery modifications
Land Rover Discovery prices
Land Rover Discovery 1998 - 2002 crossover price in Latvia is from 2400 € to 4900 €.
Comparing to analogical vehicles Land Rover Discovery price is above average (compare crossovers 1998 - 2002 prices).
Land Rover Discovery 1998 2 features (options)
Percentage of Land Rover Discovery with corresponding feature (option)
Climate control
67% Conditioning
60% Adjustable steering wheel
59% Metallic paint
50% Sunroof
46% Leather upholstery
42% Heated seats
35% Roof bars (railings)
30% Electrically adjustable seats
25% Cruise control
22% Panoramic sunroof
19%
Land Rover Discovery 1998 2 photo images
Land Rover Discovery reviews
Total 5 Land Rover Discovery owner reviews
Land Rover Discovery 1999 Diesel 2.5 litres, Automatic gearbox
Purchase year:
2014 (age of car 15 years)
Owned for:
40`000 kilometers (2 years)
Average fuel consumption:
9.9 litres per 100km (50% urban driving)
Total cost of repairs:
235 € (~ 117 € per year)
Total car rating:
8/10
Would recomend this car to the friend
Pros: Robust and more reliable than fractious
male, age 45
Land Rover Discovery 1999 Diesel 2.4 litres, Automatic gearbox
Purchase year:
2014 (age of car 15 years)
Owned for:
30`000 kilometers (1 year)
Average fuel consumption:
10.0 litres per 100km (40% urban driving)
Total cost of repairs:
280 € (~ 280 € per year)
Total car rating:
8/10
Would recomend this car to the friend
male, age 44