Honda CR-V 2.4 i-VTEC description
Crossover / SUV Honda CR-V 2.4 i-VTEC has been produced from January, 2007 to January, 2010. It has petrol engine with displacement of 2.4 litres, which produces power of 166 horsepower on 5800 rpm - this is the most powerfull Honda CR-V 2007 - 2010 version and torque 220 Nm (Newton metres) on 4300 revolutions per minute.
Honda CR-V 2.4 i-VTEC has all four wheel drive (AWD, 4x4) and automatic gearbox with 5 gears.
The maximum speed of this car is 190 km/h.
Honda CR-V safety
During safety testing Honda CR-V has obtained 4 stars from five, which means good safety level.
Adults (driver and passenger) safety of Honda CR-V is evaluated with four stars, children safety - with four stars, and for pedestrian protection Honda CR-V got two stars.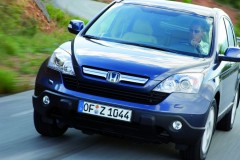 Honda CR-V 2.4 i-VTEC technical data
Model:
Honda CR-V 2.4 i-VTEC
Body style:
Crossover / SUV
Production period:
2007. January ... 2010. January
Engine:
2354 cm3 Petrol
CO2 emissions:
no data
Power:
166 HP ON 5800 RPM
Torque:
220 NM ON 4300 RPM
Gearbox:
Automatic gearbox (5 gears)
Drive type:
All wheel drive (AWD, 4x4)
Maximum speed:
190 km/h
Acceleration 0-100 km/h:
no data
Fuel consumption (l/100km):
no data
Fuel tank capacity:
58 litres
Car dimensions:
4.53m (length) 1.82m (width) 1.68m (height)
Gross weight:
2160 kg
All Honda CR-V crossover
[2007 - 2010]

modifications