Seat Inca Estate car / wagon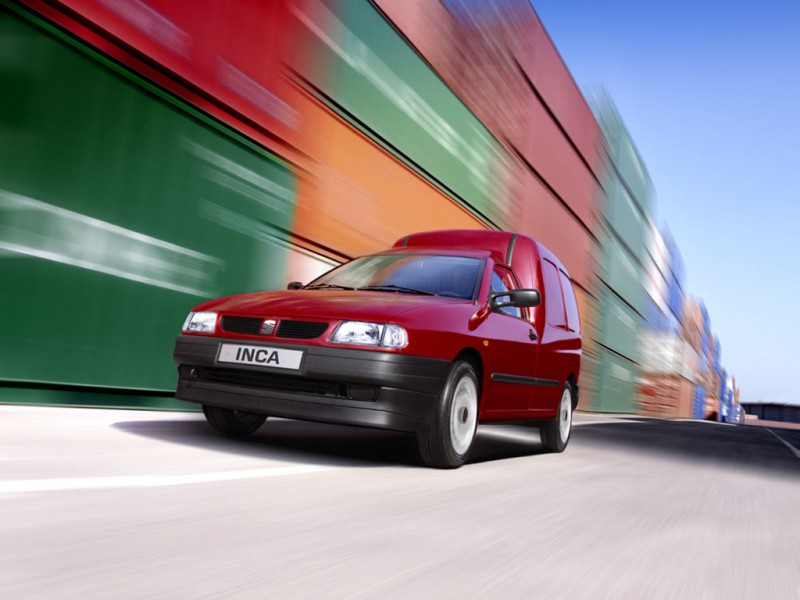 All Seat Inca estate car photos
Compare Seat Inca to other cars
This generation of Seat Inca has been produced from January, 1995 to January, 2000. We can provide information about 3 modifications of this generation. The car has been produced only with front wheel drive.
This Seat is available with two petrol engines with displacement from 1.4 to 1.6 litres and power of from 60 to 75 horsepower un one diesel engine with displacement 1.9 litres and power of 64 HP.
The car is available with only with manual gearbox.
The best acceleration from 0 to 100 km/h - 15 seconds has Seat Inca 1.6 i version, conversely the tardiest one is Seat Inca 1.9 SDI reaching this speed only in 20 seconds.
Lenght of Seat Inca is 421 cm, it is medium size car. For comparison - Seat Inca is about 7 cm longer than Volkswagen Polo estate car / wagon, but 6 cm shorter than Ford Escort estate car / wagon. Seat Inca gross weight is from 1035 to 1105 kg (depending on modification), this car is about 9 percent heavier than the average for this age and class of vehicles.
This Seat is relatively cheap - it can be purchased (in Latvia) for around 550 $. Below you will find more detailed information about Seat Inca prices and costs.
Seat Inca modifications
Seat Inca prices
Seat Inca estate car price in Latvia is from 440 $ to 650 $.
Comparing to analogical vehicles Seat Inca price is very low - Seat Inca is approximately for 27 percents cheaper then average estate cars of this age (compare estate cars 1995 - 2000 prices). Despite of relatively low price Seat Inca quality is above average (see below), so this Seat can be a good buy.
| Year | Lowest price ($) | Average price ($) | Highest price ($) | Availability |
| --- | --- | --- | --- | --- |
| 1998 | 440 | 550 | 650 | |
Seat Inca total costs of ownership
To calculate the Seat Inca total running costs, including the purchase, insurance, maintenance costs as well as taxes and other costs, click year of production
1995 1996 1997 1998 1999 2000
Seat Inca mileage
To estimate approximate Seat Inca mileage, please choose production year
1995 1996 1997 1998 1999 2000
The VIN (Vehicle Identification Number) is a combination of seventeen letters and numbers that identifies a particular vehicle. The VIN number can be found on the car registration certificate as well as on the car body.
Seat Inca estate car features (options)
Percentage of Seat Inca with corresponding feature (option)
Roof bars (railings)
67% Adjustable steering wheel
33%
Seat Inca estate car photo images