Mercedes GLA 200 description
Crossover / SUV Mercedes GLA 200 is being produced from January, 2013. It has petrol engine with displacement of 1.6 litres, which produces power of 156 horsepower on 5300 rpm and torque 250 Nm (Newton metres) on 1250 revolutions per minute.
Mercedes GLA 200 has front wheel drive (FWD) and automatic gearbox with 7 gears.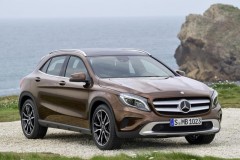 Mercedes GLA 200 technical data
Model:
Mercedes GLA 200
Body style:
Crossover / SUV
Production period:
2013. January
Engine:
1595 cm3 Petrol
CO2 emissions:
no data
Power:
156 HP ON 5300 RPM
Torque:
250 NM ON 1250 RPM
Gearbox:
Automatic gearbox (7 gears)
Drive type:
Front wheel drive (FWD)
Maximum speed:
no data
Acceleration 0-100 km/h:
no data
Fuel consumption (l/100km):
no data
Car dimensions:
4.42m (length) 1.80m (width) 1.49m (height)
All Mercedes GLA crossover
[2013 modifications
Modification
Engine
Power
Fuel cons.
Gearbox
Drive type
Mercedes GLA 200

Jan 2013 —

1.6 Petrol
156 HP
-
Manual (6 gears)
Front wheel drive (FWD)
Mercedes GLA 200

Jan 2013 —

1.6 Petrol
156 HP
-
Automatic (7 gears)
Front wheel drive (FWD)
Mercedes GLA 250

Jan 2013 —

2.0 Petrol
211 HP
-
Automatic (7 gears)
Front wheel drive (FWD)
Mercedes GLA 250 4MATIC

Jan 2013 —

2.0 Petrol
211 HP
7.1 l/100km
Automatic (7 gears)
All wheel drive (AWD, 4x4)
Mercedes GLA 45 AMG

Jan 2013 —

2.0 Petrol
360 HP
7.5 l/100km
Automatic (7 gears)
All wheel drive (AWD, 4x4)
Mercedes GLA 200 CDI

Jan 2013 —

2.1 Diesel
136 HP
-
Manual (6 gears)
Front wheel drive (FWD)
Mercedes GLA 200 CDI

Jan 2013 —

2.1 Diesel
136 HP
-
Automatic (7 gears)
Front wheel drive (FWD)
Mercedes GLA 200 CDI 4MATIC

Jan 2013 —

2.1 Diesel
136 HP
-
Automatic (7 gears)
All wheel drive (AWD, 4x4)
Mercedes GLA 220 CDI

Jan 2013 —

2.1 Diesel
170 HP
-
Automatic (7 gears)
Front wheel drive (FWD)
Mercedes GLA 220 CDI 4MATIC

Jan 2013 —

2.1 Diesel
170 HP
-
Automatic (7 gears)
All wheel drive (AWD, 4x4)