Fiat Cinquecento Hatchback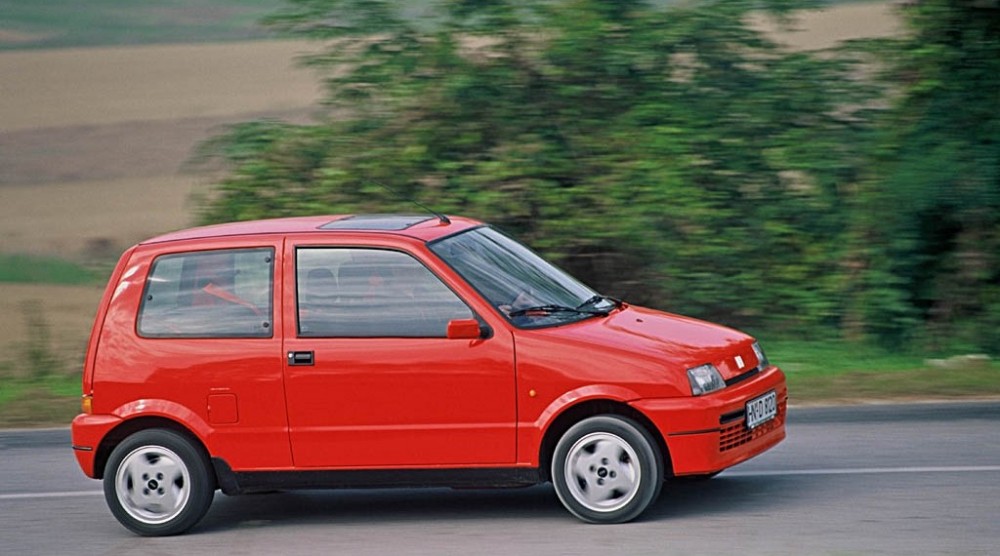 Compare Fiat Cinquecento to other cars
This generation of Fiat Cinquecento has been produced from November, 1992 to March, 1998. We can provide information about 3 modifications of this generation. The car has been produced only with front wheel drive.
This Fiat is available with two petrol engines with displacement from 0.9 to 1.1 litres and power of from 39 to 54 horsepower.
The car is available with only with manual gearbox.
Fiat Cinquecento average fuel consumption in combined cycle is from 6.1 to 6.2 litres per 100km. The most economical Fiat Cinquecento version is Fiat Cinquecento 0.9, consuming 6.1 litres of petrol per 100km.
The best acceleration from 0 to 100 km/h - 13.8 seconds has Fiat Cinquecento 1.1 version, conversely the tardiest one is Fiat Cinquecento 0.9 reaching this speed only in 18 seconds.
Lenght of Fiat Cinquecento is 323 cm, it is very small car. Fiat Cinquecento gross weight is 400 kg, which is approximately the same as the average for cars of this age and class.
Fiat Cinquecento can be purchased (in Latvia) for around 440 $. Below you will find more detailed information about Fiat Cinquecento prices and costs.
Fiat Cinquecento modifications
Fiat Cinquecento prices
Fiat Cinquecento hatchback price in Latvia is from 440 $ to 550 $.
| Year | Lowest price ($) | Average price ($) | Highest price ($) | Availability |
| --- | --- | --- | --- | --- |
| 1993 | 440 | 440 | 550 | |
Fiat Cinquecento total costs of ownership
To calculate the Fiat Cinquecento total running costs, including the purchase, insurance, maintenance costs as well as taxes and other costs, click year of production
1992 1993 1994 1995 1996 1997 1998
The VIN (Vehicle Identification Number) is a combination of seventeen letters and numbers that identifies a particular vehicle. The VIN number can be found on the car registration certificate as well as on the car body.
Fiat Cinquecento quality
production year from 1992 to 1998
According to yearly reports of German vehicle inspection service (TÜV) Fiat Cinquecento quality is more below average.
During regular inspections failures are found for approximately 26.9 percents of Fiat Cinquecento.
Year of inspection
Age of car
Failures found %
/ average for same age cars
Place in rating
Fiat Cinquecento produced in 1998
2007
9 years
27.0% / 21.40%
71. from 82

2005
7 years
24.9% / 17.00%
83. from 87

Fiat Cinquecento produced in 1997
2008
11 years
24.8% / 22.50%
51. from 72

2007
10 years
27.0% / 21.40%
71. from 82

2006
9 years
29.8% / 22.70%
70. from 78

Fiat Cinquecento produced in 1996
2008
12 years
24.8% / 22.50%
51. from 72

2007
11 years
27.6% / 26.30%
39. from 57

2006
10 years
29.8% / 22.70%
70. from 78

Fiat Cinquecento produced in 1995
2007
12 years
27.6% / 26.30%
39. from 57

2006
11 years
29.8% / 27.60%
42. from 59

2005
10 years
26.6% / 22.40%
53. from 70