Cheap and faithful car
read all Dacia Dokker reviews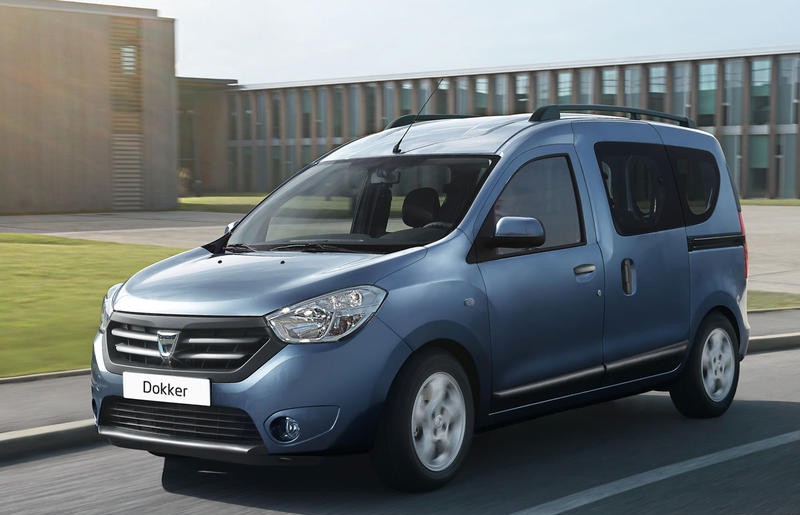 All Dacia Dokker minivan photos
Compare Dacia Dokker to other cars
This generation of Dacia Dokker is being produced from January, 2013. We can provide information about 3 modifications of this generation. The car is available only with front wheel drive.
This Dacia is available with two petrol engines with displacement from 1.2 to 1.6 litres and power of from 85 to 115 horsepower un one diesel engine with displacement 1.5 litres and power of 90 HP.
The car is available with only with manual gearbox.
Dacia Dokker average fuel consumption in combined cycle for petrol engine is approximately 6.2 litres per 100km, but for diesel engine - approximately 4.5 litres per 100km.
Dacia Dokker CO2 emissions for petrol engine is approximately 140 grams per kilometer, but for diesel engine - approximately 118 grams per kilometer.
The best acceleration from 0 to 100 km/h - 10.7 seconds has Dacia Dokker 1.2 version, conversely the tardiest one is Dacia Dokker 1.6 reaching this speed only in 14.3 seconds.
This Dacia is very cheap for its class - it can be purchased (in Latvia) for around 6000 $. Below you will find more detailed information about Dacia Dokker prices and costs.
In user reviews Dacia Dokker received average grade 4.3 (from 10) which is relatively low, considering average rate 8.0 for similar aged cars. 33% of reviewers would recommend this car to the friend.
Dacia Dokker modifications
Dacia Dokker prices
Dacia Dokker minivan price in Latvia is from 5000 $ to 6500 $.
Comparing to analogical vehicles Dacia Dokker price is very low - Dacia Dokker is approximately for 52 percents cheaper then average minivans of this age (compare minivans 2013 - 2020 prices). Despite of relatively low price Dacia Dokker quality is above average (see below), so this Dacia can be a good buy.
| Year | Lowest price ($) | Average price ($) | Highest price ($) | Availability |
| --- | --- | --- | --- | --- |
| 2017 | 5500 | 6000 | 6000 | |
| 2014 | 5000 | 5500 | 6500 | |
Dacia Dokker total costs of ownership
To calculate the Dacia Dokker total running costs, including the purchase, insurance, maintenance costs as well as taxes and other costs, click year of production
2013 2014 2015 2016 2017 2018 2019
Dacia Dokker minivan features (options)
Percentage of Dacia Dokker with corresponding feature (option)
Conditioning
100% Tire pressure control
83% Adjustable steering wheel
50% Navigation
33% Heated seats
33% Roof bars (railings)
33% Metallic paint
33% Cruise control
17%
Dacia Dokker minivan photo images
Dacia Dokker reviews
Dacia Dokker 2018.year Petrol 1.6 litres, Manual gearbox
Purchase year:
2018 (age of car 0 years)
Owned for:
16`000 kilometers (1 year)
Average fuel consumption:
8.0 litres per 100km (60% urban driving)
Total car rating:
1/10
Would NOT recomend this car to the friend
Review - positive and negative sides

Positive is music playback from USB and cruise control.

The car is not a comfortable, very big noise in the cabin. The start stop system is the ultimate shit, at the neutral it shuts down engine without pushing the brakes. The car is half a year old with a mileage of 16,000 after the first winter began to rust arches, and rust points across the all body. And there is already one shock absorber leaking. The painting is so terrible that I fear of touching it, it's very easy to scratch. Very sorry for I bought this car! Needlessly discarded money. This car wouldn't even recommend to your enemy !!!!!
male, age 31
Dacia Dokker 2018.year Diesel 1.5 litres, Manual gearbox
Purchase year:
2018 (age of car 0 years)
Owned for:
65`000 kilometers (2 years)
Average fuel consumption:
5.0 litres per 100km (60% urban driving)
Total car rating:
10/10
Would recomend this car to the friend

Good machine, convenient, simple
female, age 70